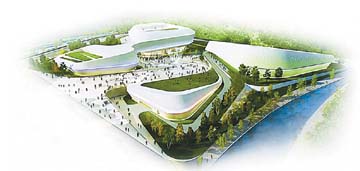 THE organization committee of the Qingdao International Horticultural Expo 2014 has announced the theme of the event, it will be "Let life walk into nature."
    The event is scheduled to be held at Baiguoshan Forest Park in Licang District from April 18 to Oct. 18, 2014.
    Exhibition planning
    Exhibition planning for three major pavilions — theme pavilion, plant pavilion and garden culture center — has started with the participation of excellent curators from home and abroad.
    The pavilion will demonstrate the cultures of Qingdao and Shandong Province. The plant pavilion is expected to display marine plants, bamboos and rattans, and temperate plants. The garden culture center will emphasize harmony between humans and nature.
    International touch
    Visitors will be able to get in touch with the garden cultures of different countries.
    The event will mainly see exhibitors from Europe and Asia, while plants from America and Oceania will also be exhibited.
    There will be 36 exhibition parks in the international section of the event. More than 10 foreign cities, such as Pattaya in Thailand, Kyoto in Japan and Southampton in Britain, have confirmed their participation in the event.
    In addition, enterprises from home and abroad are also active in applying to participate.
    Preview of flowers
    More than 50 flower varieties have been previewed on the 2,800-meter-long flower boulevard, which covers an area of 1,500 square meters.
    Many of the flower varieties in the preview are new to Qingdao.
    Seedling identity
    A disposable ring has been hung on each seedling planted for the event to show their identity.
    The seedlings were selected by experts and are adaptable to the climate of Qingdao.
    (Li Hao, Zhang Hua)