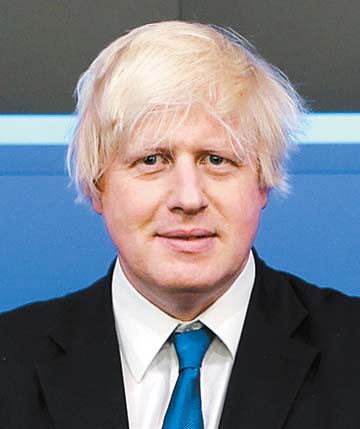 Boris Johnson's victory in the race to lead London through the Olympics raises expectations that he will one day cross the Thames from City Hall to Downing Street, but critics question whether he has what it takes to be Britain's prime minister.
    BORIS JOHNSON, whose popularity is largely down to his comic talent and colorful past, won a second four-year term as mayor of London on the same day that his Conservative Party suffered heavy losses in nationwide local elections.
His ability to outperform his own party, known as the "Boris bonus," surfaced again May 4, prompting his defeated Labor rival Ken Livingstone to put the boot into Conservative Prime Minister David Cameron and George Osborne, the finance minister.
"Whilst Cameron and Osborne are dragging the Tory party down to defeat in the rest of Britain, not only have you won another term, but I suspect this has also settled the question of the next Tory leadership election," Livingstone told Johnson after conceding defeat at London's City Hall.
In his victory address, Johnson pointedly made no mention of Cameron or the national party, choosing instead to highlight his record on crime and transport and to pay tribute to Livingstone, local party members and his family.
"I'll continue to fight for a good deal for Londoners, a good deal from the government that will help us deliver prosperity in this city," he said, firmly placing himself on the side of Londoners pitched against a national government sticking doggedly to painful austerity measures.
During his rise from right-wing columnist to magazine editor to member of parliament to mayor, Johnson has deployed his self-deprecating humor to recover from multiple gaffes and crises that would have probably ended many other political careers.
Johnson, 47, was a contemporary of Cameron at Eton, an exclusive private school, and Oxford University, where they both joined the Bullingdon Club, notorious for its members drunkenly trashing restaurants while wearing tail coats.
Cameron has played down talk of a lifelong rivalry between the two men, but Johnson is less guarded about their competitive relationship. In a 2005 interview, he let slip that it was "one of the many traumas I have to bear in my life" that the high-flying Cameron is two years his junior.
But while Cameron's privileged background is often held against him by critics who say he is out of touch with ordinary voters, Johnson has carved out a niche for himself as a loveable upper-class eccentric with a popular touch.
"He advances beneath a mask of blundering amiability, but the truth is he can be ruthless, he's highly intelligent and he wants to get to the top," said Matthew Parris, a columnist and former Conservative lawmaker who once worked for Johnson.
Instantly recognizable thanks to his riotous platinum-blond hair, Johnson is known by his first name across Britain. His past claims to fame range from star turns on popular BBC comedy quiz show "Have I Got News For You" to a string of extra-marital affairs that earned him the tabloid nickname "Bonking Boris."
His personal brand is so strong that the bicycles-for-hire he introduced to London are firmly established as "Boris bikes." The 2012 London Olympics in July and August will give the Boris brand global exposure.
Once dismissed as outlandish by most political analysts, the idea that Johnson could one day become prime minister is now the subject of intense speculation in London and beyond.
"Is he already planning an audacious next move?" asked the Independent newspaper in a front-page story that quoted unnamed Conservative members of parliament as saying Johnson plans to run for a parliamentary seat in 2015. That would be an essential first step towards any future bid for Cameron's job.
"We know what Boris stands for — low tax, a Europe referendum, tough on law and order. He can communicate that and has charisma," the newspaper quoted one lawmaker as saying.
But in a BBC interview May 5, Johnson denied that he intended to stand for parliament in 2015, one year before his term as mayor ends, in what looked like an early attempt to quash growing chatter about his prime ministerial ambitions.
Commentators immediately speculated that he could change his mind, however, or that he might easily enter parliament via a by-election in 2016.
The European edition of the U.S. magazine Newsweek also raised the question on last week's front page, a close-up of Johnson under the headline "I say, will I be mayor?" The word "mayor" is crossed out in red and replaced by "prime minister."
"By the time he's been mayor for another four years, he'll have had a lot more experience than either Tony Blair or David Cameron did when they became prime minister. It will have the effect of making him look like a much more serious proposition," said Tony Travers, of the London School of Economics.
As mayor since 2008, Johnson has been in charge of transport and policing in one of the world's busiest cities and of an annual budget worth about 15 billion pounds (US$24 billion).
Johnson, who describes himself as "a tax-cutting Conservative," is well-known for his vitriolic attacks on the European Union. These views, combined with his humor and eloquence, make him wildly popular with the party grass roots.
Britain's most widely read newspaper, Rupert Murdoch's tabloid Sun, gave Johnson a ringing endorsement on the eve of the London mayoral race, saying that he was succeeding where Cameron was failing: in connecting with voters.
"A vote for Boris tomorrow is a vote for a better London — and perhaps for a better government, too. Because if he wins resoundingly, Cameron will have to follow his example," the Sun said in an editorial.
But not all Conservatives are sure that he is the right man to lead the party, let alone the country.
"It's too early to say. I think he's been a very successful mayor of London and he's surprised many people with how good he's been as mayor. But he needs to go through other stages before he could be seriously considered," said Tim Montgomerie, editor of the influential Conservativehome Web site.
Parris said he thought the party leadership might one day be within Johnson's grasp, but not the keys to Downing Street.
"I don't think he has the qualities to be prime minister and I don't think the public really think he has the qualities to be prime minister. He doesn't take himself or it seriously enough."
Labor opponents are even more dismissive.
"Boris with his finger on the pulse of London is one thing — with his finger on the nuclear trigger is quite another," said Labor commentator Dan Hodges.
Johnson once quipped that finding Elvis on Mars was a likelier event than him becoming prime minister.
He has years of experience dodging questions on how far he will go. Perhaps the most revealing answer was in a 2005 BBC interview, when he said "all politicians in the end are like crazed wasps in a jam jar, each individually convinced they are going to make it."
Johnson is the eldest of the four children of Stanley Johnson, a former Conservative Member of the European Parliament and employee of the European Commission and World Bank.
Johnson began his career in journalism with The Times, and later moved on to The Daily Telegraph where he became assistant editor. He was appointed editor of The Spectator in 1999. In the 2001 general election he was elected to the House of Commons and became one of the most conspicuous politicians in the country.
In September 2007 he was selected as the Conservative candidate for the 2008 London mayoral election. Johnson defeated Labor incumbent Ken Livingstone and was elected mayor, after which he resigned his seat in parliament. (SD-Agencies)