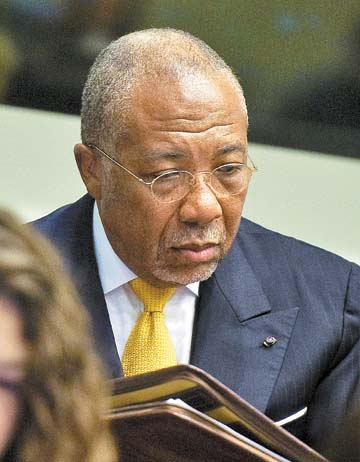 Former Liberian President Charles Taylor was sentenced to 50 years' imprisonment Wednesday for arming and supporting murderous rebels in Sierra Leone in return for "blood diamonds," a landmark sentence activists hope will send a clear message to despots around the world that they will be held to account for sponsoring atrocities.
CHARLES TAYLOR, wearing a blue suit and gold tie, stood grim-faced and silent as Presiding Judge Richard Lussick of Samoa imposed what will likely amount to a life sentence for the 64-year-old.
Lussick said Taylor's position as head of state at the time of his crimes put him in a "class of his own" when judges came to setting the 50 years imprisonment sentence — one of the longest ever handed down by the Special Court for Sierra Leone or any other international tribunal.
"The accused has been found responsible for aiding and abetting some of the most heinous crimes in human history," said Lussick, reading out the ruling Wednesday.
He detailed a litany of horrors, including rebels cutting open pregnant women "to settle bets on the sex of a child." Many witnesses were "weeping as they testified. Their suffering will be life-long," Lussick said.
After a five-year trial that included grisly testimony from victims who were missing limbs, former colleagues and even fashion supermodel Naomi Campbell, the former Liberian president was convicted in April of 11 war crimes and crimes against humanity for aiding and abetting Sierra Leone's Revolutionary United Front during the country's 1991-2001 civil war.
Taylor's reaction in court Wednesday was in stark contrast to the delight of survivors of the war that claimed 120,000 lives, who gathered in the Sierra Leone capital, Freetown, to watch a live feed of the sentencing.
"That makes me the happiest person on earth," said Alimami Kanu, who was 11 when rebels backed by Taylor hacked off his right hand. He was one of thousands of civilians mutilated during Sierra Leone's decade-long civil war that ended in 2002.
"The curtain has now been drawn on Charles Taylor," said Al Hadji Jusu Jarka, former chairman of the association of amputees, who had both his arms cut off by the rebels. "I hope he will be haunted by his deeds as he languishes in jail."
Sierra Leone hailed the sentencing as "welcome news to both government and the nation."
"It is a step forward as justice has been done," Deputy Information Minister Sheku Tarawali said.
In Monrovia, some Liberians said they felt humiliated by Taylor's sentence, while others voiced relief that a dark chapter in the history of the two neighboring countries had been brought to a close.
But many remain deeply bitter that the atrocities of Taylor's reign as a warlord in his own country have gone unpunished.
"To judge Mr. Taylor for what occurred in Sierra Leone and ignore what occurred in Liberia is for me a betrayal from the part of the international community," said Ruth Mendee, 43, whose two children were raped in front of her.
In Washington, the United States hailed Taylor's conviction and sentencing.
"The conviction of Charles Taylor is a significant moment for the people of Sierra Leone and, I would note, a milestone for justice and accountability," said State Department spokesman Mark Toner.
Human rights activists and international law experts also hailed the tough sentence as a warning shot for war criminals.
"Today's sentence not only reflects the severity of Taylor's crimes but sends a clear message that individuals who aid and abet war crimes can no longer act with impunity," said Patrick Alley, director of Global Witness, a nongovernment group that campaigns to prevent conflicts erupting around exploitation of natural resources such as diamonds and timber.
The sentence came a month after Taylor became the first former head of state since World War II to be convicted by an international court.
Chief prosecutor Brenda Hollis had asked for 80 years' prison and said her team would study the sentence before deciding whether to appeal.
"The sentence... does not replace amputated limbs, does not bring back to life those who were murdered," she said. "It does not heal the wounds of those victims of sexual violence and does not remove the permanent emotional and psychological scars of those enslaved or recruited as child soldiers."
"But it brings back some measure of justice... for those fortunate enough to survive."
Hollis said Taylor's prison term would only provide a measure of closure for victims of one of Africa's most savage conflicts.
Taylor's lead attorney, Courtenay Griffiths, criticized the court for refusing while setting Taylor's sentence to take into account his decision to step down from power following his indictment in 2003. Griffiths said that sends a worrying message against the backdrop of ongoing atrocities.
At a sentencing hearing earlier this month, Taylor expressed "deepest sympathy" for the suffering of victims of atrocities in Sierra Leone, but insisted he had acted to help stabilize the West Africa region and claimed he never knowingly assisted in the commission of crimes.
Judges rejected that argument, saying that while he posed as a peacemaker he was covertly fanning the flames of conflict by arming rebels.
Taylor will now remain in the U.N.'s detention unit in The Hague until appeal procedures are finalized, his lawyers said. The process will likely keep him in jail in The Hague, Netherlands, for months.
Taylor's sentence will be served in a British prison under a 2007 deal to put him on trial in the Netherlands-based court.
Mark Ellis, the executive director of legal group The International Bar Association, said the verdict and sentence should act as a deterrent — in time.
"So far in the recent history of these courts doesn't suggest that these courts are a deterrent yet. But that is the hope, that eventually they will be," he said.
A thrice-married lay preacher with an economics degree from Bentley College in the U.S. state of Massachusetts, Taylor rose to power on the back of the rebellion he launched in 1989 against Liberia's then military ruler Samuel Doe.
He had joined the Liberian civil service under Doe — who himself seized power in 1980 and opted for an authoritarian regime — but was sacked in 1983 for embezzling nearly US$1 million in government funds.
He skipped the country, returning to the United States where he was jailed on an extradition warrant. But he escaped 16 months later and disappeared, resurfacing in December 1989 at the head of a rebellion backed by Libya and reportedly by Burkina Faso.
His National Patriotic Front of Liberia (NPFL) earned a reputation for extreme violence and was among the first to force children, some as young as 10, to carry guns.
"Jesus Christ was accused of being a murderer in his time," he once told the BBC in an interview.
Seven grim years of war wearied the Liberian people, who in 1997 elected Taylor president, but his rise to power brought little relief to the country of 3.3 million people.
Two years later, a second rebellion took place, this time against Taylor. Fighting — with the capital Monrovia encircled — ended when Taylor fled to Nigeria in 2003.
He remained out of reach there until Nigeria in March 2006 bowed to international calls to extradite him.
A reporter who visited his villa and met him briefly days before his arrest found that he had access to a luxury Jaguar car with blacked-out windows and diplomatic plates, and carried a battery of cell phones.
(SD-Agencies)