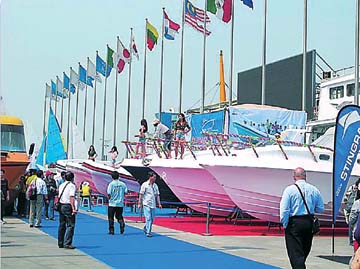 MORE than 37,000 visitors and buyers around the world attended the 10th China International Marine Fair & China (Qingdao) International Boat Show which was closed recently in Qingdao.
According to statistics, transaction volume of the three-day event reached 180 million yuan, an increase of 20 percent over the previous fair.
A total of 151 companies with more than 100 famous brands from more than 20 countries and regions attended the fair, displaying more than 300 sports boats and water equipment of all kinds. More than 40 percent of the exhibitors were top international companies.
Local yachts and water sports products also attracted wide attention. At present, there are more than 30 yacht manufacturing companies of more than 10 brands in the city. "When the event was first held, there were only two or three local brands in Qingdao," said an official from the organizing committee of the event.
Among these, a "Sea Dream" yacht worth 4 million yuan was one of the most popular local-made items at the fair.
"Sea Dream" is a yacht brand which is developed, designed and manufactured by Qingdao Haitie FRP Boats Co. Ltd., said Ma Yuzeng, technology director of the company. "The brand targets merchants, providing high-end services to successful business people. At present, it was mainly sold in the United States and Europe," said Ma.
"The yacht industry is thriving. You can make your own market only with your own brand," said Ma. "In the beginning, we mainly designed and made OP-level yachts. After years of experience, we decided to enter the overseas market. With just three months, the company made their first high-end yacht to be sold overseas," said Ma.
Another key company at the fair was Qingdao Hatter Yuandong Yacht Co. Ltd. The company has started making luxury yachts since 2005 and has made its name on the global market with its self-developed Sun-Sea 43 luxury business yacht since the next year. At the beginning of 2007, it developed a new Sun-Sea 43S luxury sports yacht, which has attracted attention around the world.
Nauticstar Marine Co. Ltd. is also focusing on technological innovation. With their achievements in new technology, materials, techniques and products, they have made 13 ranges of yachts with high technology, high functions, low energy emission and high quality. At present, the company has several famous brands and the "Nauticstar" has registered in 23 countries and regions.
 (Wang Yuanyuan, Shen Junlin)