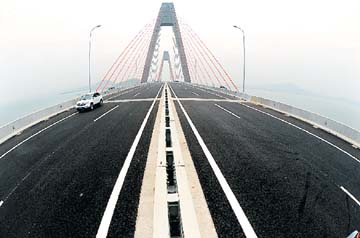 A CROSS-SEA bridge connecting Haiyang, Yantai City, and Jimo, Qingdao City, has started operation. It now takes less than one hour to get from downtown Qingdao to Haiyang thanks to the bridge.
The bridge is the main bridge connecting the south of Jiaodong Peninsula. Total investment in the bridge is 500 million yuan and it is about 4,700 meters long and 24.5 meters wide. The major part of the bridge is 376 meters and the speed limit is 80 kilometers.
"Once the bridge is in operation, I don't have to go to Haiyang through Qingdao-Weihai Expressway. It is considerably faster and cheaper," said Su Ming, a businessman in Jimo.
Another project connecting the bridge and Binhai Road will also be completed soon and will start operation after it is approved by the local government.
The project, with a total length of 14.7 kilometers, is the last phase of Binhai Road. The road connects the cross-sea bridge and Poli in Jiaonan and the total length is about 200 kilometers. (Wang Yuanyuan, Cui Wu)