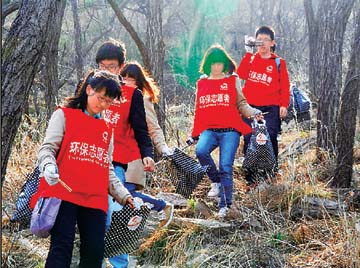 A GROWING number of volunteers have contributed to environmental protection in recent years. They have not only made contributions to protecting the city's environment but also helped raise residents' awareness of environmental protection.
Wang Deyang, an employee of the Bank of Qingdao, is one of the leading volunteers. Since 2004, Wang has picked up about 3 tons of garbage on Fushan Mountain. After his story was reported by the media, many residents were inspired and helped pick up garbage on the mountain.
Li Hao, a senior at Qingdao University of Science and Technology, is even more dedicated to environmental protection.
As the chairman of the university's environmental protection association and one of the country's young environmental protection ambassadors, he has organized many environmental protection activities across the city such as a creative design competition, battery recycling activities, beach cleaning activities and environmental protection promotions.
He also opened an environmental protection class at Changsha Road Primary School, a water-saving class at Xinyuan Community on Luoyang Road and a citywide lecture program.
The hotline, 12369, is also a popular environmental protection project in the city. In 2011, there were 701 cases of residents reporting vehicles that emitted smoke, the kind that pours out of old trucks. Among these, 482 vehicles reported by residents were fined.
Meanwhile, many communities, vehicle companies, bus companies, taxi companies, schools, kindergartens, companies, industrial parks, hospitals, stores, hotels and ship companies have started building green projects. As of the end of last year, 1,005 organizations had been selected as "Qingdao Environmentally Friendly Organizations."
There are three national green communities, eight national green schools, one national environmental protection company and four international ecological schools.
There are also 36 provincial green communities, 79 provincial green schools and three environmental education bases.
(Wang Yuanyuan, Shen Junlin)