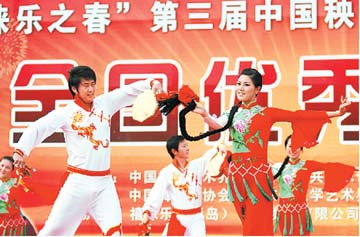 THE 3rd China Yangge Festival was launched in Jiaozhou on May 25. A total of 11 well-known yangge teams from across the country attended the competition.
Nearly all the yangge performances on the opening night were national intangible cultural heritage, attracting an audience of more than 20,000 people.
The opening gala was hosted by CCTV's Ren Luyu and Dong Yi and joined by famous artists Tan Jing and Pan Qianqian.
The festival was first held in Jiaozhou in 2008. This year's event will end in June and more activities, such as yangge dance parties, a stone exhibition and a food festival, will be held during the event.
(Wang Yuanyuan, Wang Liyan)