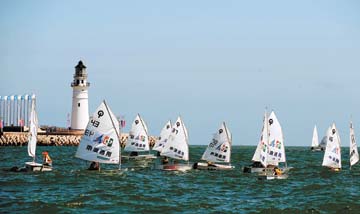 THE fourth Qingdao International Sailing Week is scheduled to be held between Aug. 18 and Sept. 2 at the city's Olympic sailing center.
    The city's signature international event will consist of more than 50 activities related to the sailing industry, sailing culture and sailing sports for youths.
    Among the highlights of the event will be a sailing photo exhibition, music festival and outdoor movie festival, all of which are expected to see participation from illustrious figures in the sailing industry.
    Four sailing races are also due to be held during the event.
    Residents will be given the chance to get involved in sailing by taking part in a variety of activities.
    (Li Hao)