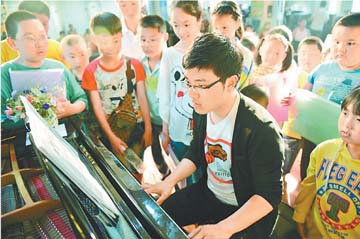 MORE than 70 children from poor families were invited to attend a free concert by Qingdao Library.
    It was the 396th free concert that the library has organized for local residents. The first was in 2008.
    "More than 600,000 residents have attended our free concerts," said the library's curator, Xu.
    In addition to the free concerts, borrowing music books from the library is free for readers. Professors from well-known domestic music schools are invited to give free lectures on a regular basis.
    The library has also given musically gifted children the opportunity to perform. More than 3,200 children have taken the stage thanks to the library's efforts.
    (Li Hao, Lu Bo)