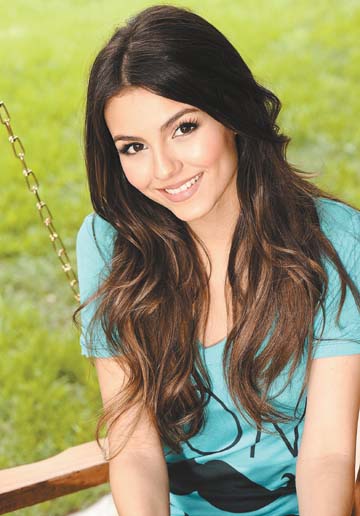 Victoria Justice recently dropped a soundtrack for her hit Nickelodeon series "Victorious," but she's also in the process of developing her own sound as a solo act.
"I want to write music that's going to appeal to everyone," Justice said. "As far as production, I don't think I've quite found my sound yet ... I want to work with producers who are unique and have a different sound."
Justice, 19, said she's unsure when she'll release her own material, but "Victorious 2.0" — the show's second soundtrack — debuted at No. 18 on the Billboard charts this month. Justice co-wrote some of the tracks, which also feature her cast mates, and said making music for the show is helping her grow as an artist.
Currently in its third season, "Victorious" airs on Saturdays. She said despite the show's young nature, the soundtrack is for all ages.
"It's just not kids' music. A lot of the lyrics are actually smart and sophisticated," she said.
The entertainer said her musical influences ranged from Britney Spears to Carole King. The teen only had six days off last year, and her schedule will be even busier when she launches her tour on August 2 in Costa Mesa, California. It wraps up on September 14 in Allegan, Michigan.
"I want my sound to be different from the music that's been on 'Victorious,'" she said. "I want there to be a distinction between 'Victorious' songs and Victoria Justice songs."
Justice will expand her brand when she appears opposite Chelsea Handler and Johnny Knoxville in the film "Fun Size," the directorial debut of "Gossip Girl" and "The O.C." creator Josh Schwartz.(SD-Agencies)