SOUTH AFRICA'S Home Affairs Minister Nkosazana Dlamini-Zuma, a veteran of the fight against apartheid who has served in the Cabinet of every South African president since Nelson Mandela, is now set to take the top African Union job.
    In a tightly contested election by the 54-member pan-African bloc in Ethiopia on July 15, the 63-year-old Dlamini-Zuma broke a glass ceiling by becoming the first woman head of the AU Commission. She beat the incumbent Jean Ping, a former foreign minister of Gabon who helmed the AU for nearly four years.
    The victory of Dlamni-Zuma brings the curtain down on bitterly partisan lobbying over the post of the AU Commission chair, the executive head of AU, that threatened to divide the continent that is facing festering crises in Mali, the Democratic Republic of Congo, Sudan and Guinnea-Bissau.
    South African President Jacob Zuma, who looked slightly tense and said he was keeping his fingers crossed ahead of the AU summit, was one of the first to offer his congratulations after the vote.
    "It means a lot for Africa ... for the continent, unity and the empowerment of women — very important," Zuma said.
    But Dlamini-Zuma is not the kind to be swept away by this hard-won victory, earned amid fierce lobbying in the run-up to the election.
    Known for her stern looks and reticence, Dlamini-Zuma, a former wife of the South Africa president, was quick to put aside partisan politics as she pitched for African unity after her victory became public.
    In her campaign to win the pan-African bloc's top job, she vowed to work at making it "a more efficient and effective organization."
    And while she may have defeated the French-speaking Ping of Gabon, she has refused to be labeled as an English-speaking candidate.
    "I am not an Anglophone, I'm a Zulu," she said in her first few remarks Monday after winning the election as she was seen to be a candidate representing the English-speaking southern Africa. She made it clear that she would be "implementing programs ... agreed upon by everybody" rather than "consulting the Anglophone and the Francophone."
    This kind of statesmanship can be expected from a woman known as South Africa's iron lady and an anti-apartheid activist who has held key ministerial positions in every South African government since Nelson Mandela became the first black president in 1994.
    A paediatrician by training, Dlamini-Zuma was chosen by Mandela as his health minister (1994-1999). She showed exemplary initiative in transforming the country's health system by introducing legislation that provided the poor access to free basic health care.
    Subsequently, she served as foreign minister of South Africa for almost a decade under presidents Thabo Mbeki and Kgalema Molanthe and became the widely recognized international face of South Africa's rising global stature.
    In a statement Monday, the African National Congress said that while "she will be lost to the South African government. She will be assuming a higher calling — serving the entire African continent."
    The contest to head the Commission of the 54-member AU had been deadlocked since a previous vote at a January summit ended in stalemate. The impasse had persisted through a summit of AU heads of state held in Addis Ababa last week.
    It prompted the AU's rotating chairperson, Benin President Boni Yayi, to warn African heads of state that failure by the continental body to resolve the leadership deadlock would divide it and undermine its credibility in the world.
    "Now we move on to unite the African continent, we unite everybody through Madame Zuma," said Lindiwe Zulu, President Zuma's adviser on international affairs.
    Dlamini-Zuma has the backing of the predominantly English-speaking southern African region and is the first person from the region to hold the top Commission job since the AU was created a decade ago.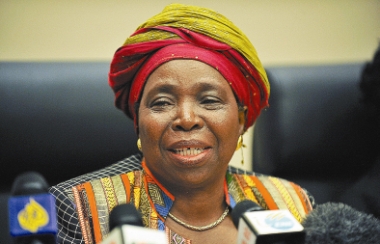 "She takes her work very seriously," said Prince Mashele, an analyst at the Center for Politics and Research, who worked with Dlamini-Zuma's ministry when she was foreign minister.
    "She has the rare quality of putting up very good administrators," Mashele added.
    But she has raised eyebrows with her unsmiling demeanor.
    "I thought she could do better if she was a little more affable," said Mashele.
    A stable democracy and the continent's largest economy, South Africa occupies a powerful position among other African nations. But the country's campaign to win the AU leadership role created sharp differences among the continent's top leaders.
    "I think there have been more people disappointed by this than myself," Rwanda's President Paul Kagame said in an interview in the U.K. several days before the vote. "You can hear the echoes all over saying they should probably have contributed to stability rather than contributing to having a divided continent on the basis of who becomes the chair."
    South Africa's dogged pursuit of the AU post is the latest diplomatic prize Pretoria has pursued.
    Patrick Smith, editor and publisher of Africa Confidentia, said Dlamini-Zuma would have to first move to reconcile with the Francophone bloc which supported rival Ping.
    This also raised the question of how she would handle the proposed military intervention to reunite divided Mali, an initiative led up to now by the mostly French-speaking West African regional grouping ECOWAS, many of whose members had supported Ping's candidacy.
    Born Jan. 27, 1949, in the eastern province of KwaZulu-Natal, South Africa, Dlamini-Zuma is the eldest of eight children. She took up politics in high school.
    In the 1970s she went into exile, and studied in Britain at the universities of Bristol and Liverpool, while helping organize the anti-apartheid movement overseas.
    She met Zuma while working as a paediatrician at a Swaziland hospital and became the polygamist president's third wife in 1982. They divorced in 1998.
    When the ban on the African National Congress was lifted in 1990, she returned home.
    She was health minister when Mandela became the country's first black leader.
    She went on to be foreign minister for a decade, earning praise for her shuttle diplomacy to end the war in the Democratic Republic of Congo.
    But her critics found fault with her "quiet diplomacy" towards neighbor Zimbabwe, during a crisis that saw President Robert Mugabe evict thousands of white farmers from their land in 2000.
    She is remembered for introducing legislation that overhauled the highly unequal system and gave the poor access to free basic care.
    But she was also criticized for championing a controversial HIV drug that was later proved to be ineffective.
    When Zuma fell out with ex-president Thabo Mbeki and moved to oust him as ANC leader in 2007, she stood as Mbeki's running mate for the ANC presidency.
    But when Zuma won party polls and later become president, he kept his ex-wife in his Cabinet — a rare Mbeki ally to avoid the axe.
    "She is an astute politician, a veteran, the experience she acquired as foreign minister puts her in good stead to take over this role," said Keith Gottschalk of the University of the Western Cape.(SD-Agencies)