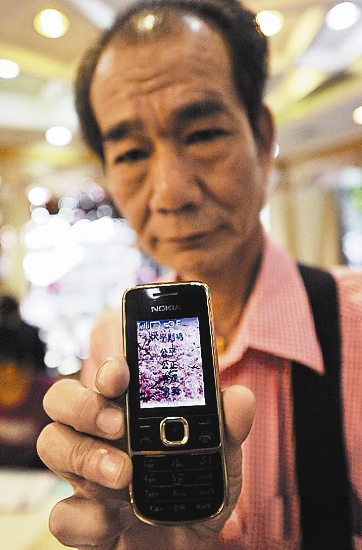 Wang Yuanyuan, Huang Yuanhong
    cheekywang@hotmail.com
    IN Guangzhou, Ou Shaokun is a controversial man who is famous for standing up to abuses of power. Some people say he is a grass-roots hero for protecting residents' rights, while some think he is just a paranoid man, dependent on the government's financial support and failing to do anything meaningful.
    During the past eight years, Ou has lived on a 480-yuan (US$76) monthly minimum subsistence subsidy. He has worked hard to supervise and report the misuse of public vehicles, earning the label of "one of the most hateful men" among many government departments.
    "I don't think what I do is wrong and I am not simply seeking fame. I just want to help the government fight corruption. It is not easy to do good in a society like this and I have even fallen so deep into despair that I have contemplated suicide on several occasions, but I will continue to do these things because there are still many people who support me," said Ou.     
    Becoming a 'watchdog'
    Born and raised in Guangzhou, Ou was laid off by the management department of the Farm Produce Market in the city's Haizhu District in 2000 and has never worked since.
    One evening in 2004, Ou was walking on the sidewalk next to a hospital when he heard a car repeatedly honking its horn behind him.
    "I was very angry because I was sick and minding my own business. This driver, who was not supposed to be on the sidewalk, was so rude I decided to do something," said Ou.
    Ou found by looking at the license plate that this car was a government vehicle and the driver was using the car to take his daughter to hospital.
    "I took a picture of the driver with my cell phone and called the city's discipline inspection department. Seven days later, Liwan District's Public Security Bureau called me to tell me they had already punished the driver, who was a policeman. Since then, I have been supervising the misuse of public vehicles," said Ou.
    The misuse of public vehicles includes civil servants using the vehicles to take their children to school and traveling for leisure. "Every time I go out, I keep an eye on the license plates. If I find a public car is used for personal reasons, I will take a picture and report it to the related government department. Sometimes they will reply, but most of the time, I don't hear any feedback," he said.
    Ou says he just wants to protect his rights as a normal Guangzhou resident. "It's nothing personal. I just try my best to protect our rights and hope that government workers will do the right thing and make our city better," he said.    
    Fighting hard to do good
    According to local media, there were 200,000 public cars in Guangzhou in 2011 and at least 25,000 yuan a year is spent on each car. However, there were about 170,000 civil servants with only 6,343 public vehicles, including garbage trucks, police vans and ambulances, in Hong Kong and no more than 40 officials had special cars.
    "I watch the news and follow current affairs and I am very interested in holding the government to account. If some officials cannot behave themselves or adequately supervise their employees, then I will do it for them," he said.
    However, it is not easy.
    During the past few years, Ou had been beaten up several times by civil servants whose picture he was trying to take, and he is disliked by most government workers who know him.
    "Nearly all the staffers at government departments' call centers recognize my voice. They said they did not understand why I had kept doing these things instead of living a quiet life," said Ou.
    Even many residents do not understand what drives him. "I think he is just a paranoid loner who wastes our tax money and government resources. He cannot support himself so relies on society's generosity. He even lives in a government-subsidized apartment," said a netizen called Wu Shuyang.
    Some even accused Ou of making dirty money from his activities. "Nobody can live on only 480 yuan a month in Guangzhou and he has to pay to make telephone calls and take buses to do his supervising. I don't believe he is simply motivated by justice," said another netizen, only identified by the Internet name "Guangzhouzainu."
    Even Ou's family hoped he could stop and have a more normal life. "I hope someone can persuade him to live his life more sensibly," said Ou's ex-wife surnamed Li.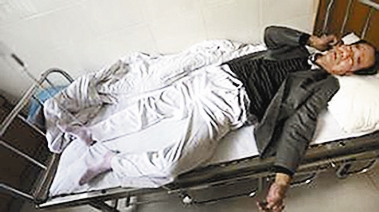 Never giving up
    Ou's ex-wife divorced him in 2006 because of his strange behavior, but she still lives with him and his elderly mother in a 48-square-meter government-subsided apartment in Yuexiu District as she has nowhere else to go.
    "I thought about killing myself because I was too exhausted. It is not easy to do good for society. But luckily, I stopped thinking about suicide when I realized I could draw strength from family and friends," he said.
    "Ou is very kind. He may be a little crazy sometimes, but is always ready to help others. We love him," said a neighbor surnamed Wu.
    Over the past 15 years, neighbors have witnessed Ou confront more than 20 thieves in the community. "He almost lost his life when saving a girl from being robbed several years ago. All the people living in our buildings are very poor, but Ou has always given money and food to those who need it even more than him. If we have a problem, we can rely on him to be there for us," said Wu.
    Ou's son, who refused to be identified, is supportive of his father. "He always tries to do what he thinks is right. Although he has come close to causing me to lose my job several times, I will not stop him because that's who he is. I just hope he can look after himself and live a healthier life," said the son.