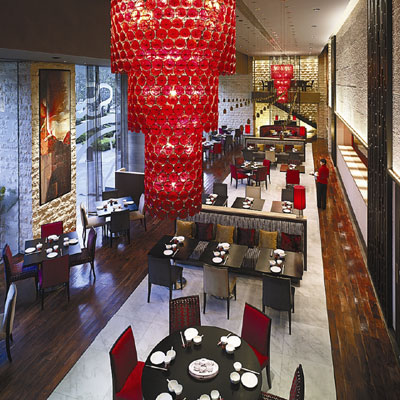 SHANG Garden at Futian Shangri-La is offering a revamped menu adding over 80 new dishes to its menu.
    These new items include dishes that won awards at Shangri-La Hotels and Resorts 2011 Chinese Culinary Challenge, an array of regional classics and an expanded selection of spicy delights.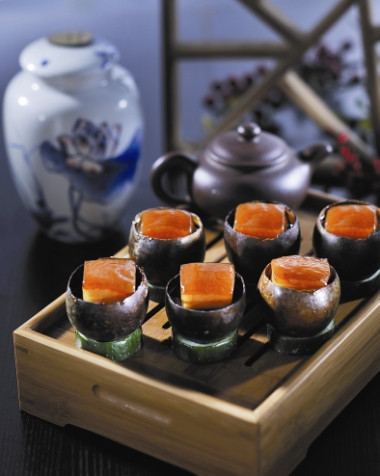 "We spent over three months planning the menu and food-tasting sessions to create a menu that we felt was just right," said Anthony Dong, chef de cusine of Shang Garden.
    "We want to provide guests with a wider selection and also introduce new creations."
    One of the highlights is the award-winning braised snail and mushroom dumpling with butter, which won the gold medal at the Shangri-La Hotels and Resorts 2011 Chinese Culinary Challenge. Inspired by the French classic, baked escargot, this dish features whole river snails, mushrooms and butter sauce wrapped in a thin wonton pasta served in a light broth.
    Another new dish that won an award at the competition is Guilin-style braised pork belly with Luohan fruit. Chef Dong uses the prime belly cut of the free range black pig and braises it with Huadiao wine and Luohan fruit. The natural sweetness of the fruit adds a subtle sweetness to the tender meat.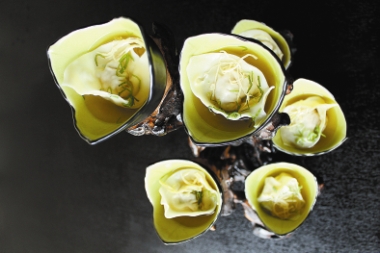 Guests will have the opportunity to savor Dong's original creation, deep-fried shrimp with oatmeal. A dish of plump and juicy prawns tossed in a creamy wasabi lemon sauce and finished with a dusting of fragrant oatmeal is perfect for a summer lunch.
    The new menu also includes spicy specialties such as stewed snail with garlic and chilli sauce, wok-fried river shrimp with chives and pepper as well as hot and sour soup with scallop, shrimp and bean curd.
    Guests' favorites from the original menu are still available however. The popular dishes carried over include curry prawn with multicolored bun, steamed egg white with crab roe, shredded bean curd soup braised with shrimp, egg and vegetable and rock salt baked cod fillet.
(Amber Zhang)