Amber Zhang
    chanwenzhang@yahoo.com.cn
    IF you are a pizza fan, try a new pizza house in the city called Lacasa. As well as traditional Italian-style pizza, there is also durian pizza, roasted potato pizza and 11 other types.
    The manager Chen Ning is a pizza enthusiast. He insists that his pizzas contain the finest ingredients and are cooked to the highest standards. Chen said the flour, cheese, sauce, meat and olive oil he uses are all imported, and are bought from the leading suppliers in the world. He believes that the only way to survive in such a competitive city is to strive to be the best.
    The durian pizza may hit customers' wallets hard, but it is worth it. There are two kinds of durian available. One is made of ingredients imported from Malaysia and the other from Thailand. "It is our flagship product and is extremely popular," said Chen. He also said that the restaurant will soon offer mango pizza.
    Chen has opened three pizza houses in Nanshan and Bao'an districts and plans to open more. Although every Lacasa pizza house only has room for five or six tables, the restaurant is clean, relaxed, and comfortable. Customers are also encouraged to book pizza through Chen's microblog or call to ask for delivery.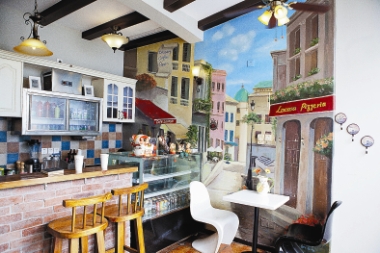 You will even find some snacks such as purple sweet potato cheesecake and cumin chicken wings. But the most important thing is the pizza. "The secret to making perfect pizza is the dough. When I began producing pizza I struggled with dough making. Fortunately I had the chance to learn from Tom Lehmann, director of a baking research institute of the United States. Under his guidance I learned how to make a pizza," said Chen who used to work in IT.
Tel: 13501586258