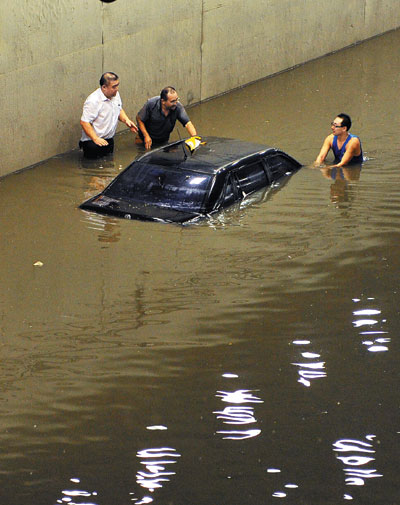 THE heaviest rain to fall on Beijing in six decades presented a new challenge to both the city and its residents.
The ordeal highlighted the inadequacy of the public drainage system, but it was also one in which some citizens rose to the challenge and others sank to new depths.
Most street cleaners, firefighters and policemen stuck to their posts while the rain came pounding down. Elsewhere, residents offered to give stranded people rides home; some even opened their doors to strangers, inviting them to stay the night.
On Sina Weibo, a Chinese micro-blogging Web site, netizens posted their addresses and contact information and invited stranded people into their homes. A karaoke bar, Coolth KTV Club, allowed passers-by to stay overnight at their outlets for free, as did a massage and fitness chain store with 21 branches run by Beijing Zhuguofan Fitness Technology Development Co.
To inform air passengers that their flights had been canceled and that taxis were in short supply, a group of drivers began to offer free rides back from the airport.
Wang Lu, who lives in Beijing's Wangjing residential subdistrict, about 15 km from the airport, was the first to organize the volunteer excursions.
When the IT project manager learned that roughly 80,000 passengers were stranded at the airport at about 11 p.m., he quickly went onto his micro blog to call on people who own cars and live near his home to make trips to the airport. At about midnight, he found 20 people waiting for him at a place where volunteers had been asked to gather.
"I've never used a microblog to organize anything before," said Wang, who is 28. "And I didn't know any of the people who decided to join me. All of us were just eager to do something, and that made us a really good team."
"There was a girl who wanted to contribute, but she didn't have a car. She came to the place we were going to start from and gave us each a cup of coffee."
About 100 more volunteers, not all of them from Wangjing, went to the airport later in the night, according to Huang Jianhua, one of the drivers who helped.
Wang started to pick up stranded passengers around 3 a.m. and didn't go home until about two hours later, after he had taken a couple from Shandong Province to the city's Yizhuang District, which lies about 50 km from the airport.
Cao Mengshu was among those who were helped. Coming into Beijing on a flight from Kuala Lumpur, Malaysia, she knew nothing about the storm or what was happening at the airport until she landed.
Using her mobile phone to go online, she learned of the free service and sent a message to the volunteer group.
"I just gave it a shot," she said. "Even when I was sending them a message, I didn't think they would really come. But three cars were there within an hour."
"The driver who picked me up had already taken three passengers home before me. I knew they wouldn't charge me. I just gave them some food I had brought from Malaysia. I guessed they were probably hungry after driving for so many hours at night."
A few people, though, were suspicious.
"Some people just won't trust you at all, especially older people," Wang said. "They thought we weren't telling the truth and that we were trying to blackmail them."
"But I was ready for that. In China, people seldom get free rides and tend to be suspicious about unexpected acts of altruism."
Besides passengers' doubts, the volunteers also had to vie with some taxi drivers who saw the giant storm as an opportunity for price gouging.
"I heard that some cab drivers were asking for 400 yuan (US$63) for a trip that normally costs less than 100 yuan," said Su Ye, 24, one of the volunteer drivers.
"One taxi driver even asked me 'are you insane?' and gave me a threatening look when I offered a girl a free ride home," he said.
Wang Shu and her boyfriend were also among the volunteers. She was happy to be able to lend a hand but was saddened to see that some hotels had raised their prices for the night.
"It should be about 200 yuan for a night but they asked for more than 1,000 yuan," said the 23-year-old, referring to the room prices she saw at five hotels where the couple had tried to find lodgings for one of their passengers.
"I really can't understand why they would do that," she said. "Don't they feel guilty about making money that way?"
Toll staff were also criticized for continuing to collect fees at toll gates on the airport expressway, despite vehicles, in long queues, being mired in knee-high water.
Xia Xueluan, a Beijing University sociologist, said city authorities should take a more "humane" approach when handling such emergencies.
"More flexible measures should be adopted in those cases," Xia said.
The urban drainage system also came under fierce criticism, once again, as heavy rains and snow have often disrupted traffic in the capital in recent years.
(SD-Agencies)