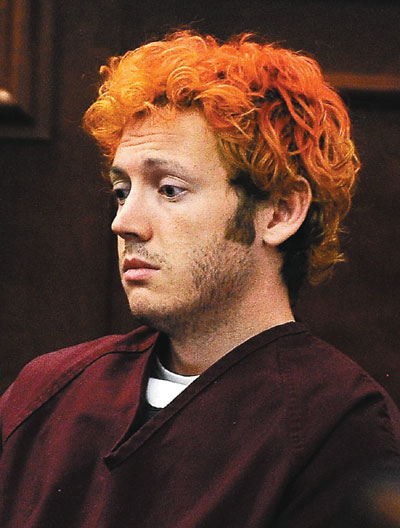 When James Holmes was arrested in the parking lot outside the Aurora theater after the shooting, which left 12 people dead and 58 injured July 20, he was wearing a gas mask, bullet proof helmet and vest, and all black clothing, and told the police that he was the "Joker," a character from the Batman movie, "The Dark Knight."
    ALLEGED Colorado shooter James Holmes reportedly sent a warning package to a psychiatrist at his former university with a notebook and drawings of his plans to massacre people.
    Holmes, 24, is accused of shooting 12 people dead and wounding 58 more at a cinema July 20 in Aurora, outside Denver, as young moviegoers packed the first midnight screening of the latest Batman film, "The Dark Knight Rises."
    There were conflicting reports about whether the package was received in time for the massacre to be averted. Officials remained tight-lipped Wednesday on reports that it had lain unopened in a university mailroom for days.
    Fox News, quoting an unnamed law enforcement source, said the parcel, with Holmes' name written in the return address box, arrived at the University of Colorado on July 12 but sat unopened until days after the July 20 massacre.
    "Inside the package was a notebook full of details about how he was going to kill people," the law enforcement source said. "There were drawings of what he was going to do in it — drawings and illustrations of the massacre."
    Those drawings included some of gun-wielding stick figures shooting other stick figures, the report said.
    However, a second law enforcement source quoted by Fox News said the authorities had been unable to confirm that the package had arrived before the killings occurred. The Denver Post, meanwhile, cited university officials as saying it had arrived Monday, days after the shooting.
    A police source told NBC News that Holmes had tipped them off to the package and told them to look for his name in the return address.
    A report also surfaced that the suspect, who is expected to be charged with 12 murders and 58 attempted murders at his next court appearance, bought a high-powered rifle hours after failing a key oral exam at the University of Colorado.
    Awarded a special grant by the government for his neuroscience studies, Holmes suddenly dropped out of the program with no explanation three days after failing the June 7 exam, ABC News reported.
    Experts say it's possible Holmes had an underlying mental illness that was triggered by the stress of failure.
    "All of those things could actually make dormant schizophrenia come out, and come out relatively quickly," said Marisa Randazzo, a psychologist who studies targeted violence.
    Using the kinds of guns Holmes allegedly fired requires training and practice, and law enforcement officials are now trying to figure out where and with whom he did this.
    Officials are unable to comment publicly on any of these matters because of a strict gagging order imposed by the judge overseeing the case.
    Police said July 22 they had found Holmes' computer inside his booby-trapped apartment — rigged to kill anyone who entered — which could provide crucial details about how he planned and executed the attack.
    Holmes is being held in solitary confinement in the Arapahoe County Detention Center and could face the death penalty if convicted, although Colorado has only executed one person since 1976.
    Holmes made a bizarre first appearance in court Monday wearing a maroon prison jumpsuit under his shock of orange-dyed hair. He appeared unable to follow proceedings as his head bobbed up and down and he alternated between staring out wild-eyed and closing his eyes as if in a daze. He has yet to undergo a psychiatric evaluation.
    The eerie footage of Holmes' court appearance gave few insights into the mind of the accused mass murderer. But a slew of reports in recent days has helped observers piece together an emerging portrait of the 24-year-old. Here are 5 revelations:
    1. He was a shy boy
    James Eagan Holmes "was known as a very quiet young man, introverted but pleasant," say Carol D. Leonnig and Joel Achenbach at The Washington Post. His father is a mathematician, his mother a nurse, and he grew up "in an upper middle-class community of picturesque hacienda-style homes surrounded by hills and canyons" in San Diego, California, say Susan Gembrowski, Marisol Bello, and Trevor Hughes at USA Today. Former high school classmates say he "liked to play cards, video games, and watch movies [with them as a teenager]," says Matt Stevens at The Los Angeles Times.
    2. He was a brilliant student
    Though awkward and shy, Holmes "once seemed bound for big things," say Jack Healy and Serge F. Kovaleski at The New York Times. He won scholarships and internships as a high school science student, and graduated "at the top of the top" of his class at the University of California, Riverside. Holmes was one of six pre-thesis doctoral students to win a grant from the National Institutes of Health to study neuroscience at the University of Colorado, Denver. However, "by this spring, Holmes had begun to struggle with poor test scores," say Leonnig and Achenbach. "He eventually decided to quit school," and was in the process of withdrawing from the graduate program at the time of the shooting.
    3. He registered with online dating sites
    Holmes frequented online dating sites, including Match.com, where his profile states he "'definitely' wants kids, drinks 'socially' but never smokes, and considers his politics to be 'middle of the road,'" says Beth Defalco at The New York Post. His profile also states: "The first thing people usually notice about me are my soul penetrating eyes. Whoa that's deep." On another site, AdultFriendFinder.com, a user thought to be Holmes says, "Am a nice guy. Well, as nice enough of a guy who does these sort of shenanigans." Elsewhere in the profile, he says, "Will you visit me in prison?"
    4. He allegedly prepared for the shooting for months
    Exploiting a "virtual absence of any laws regulating ammunition sales," Holmes amassed a "6,000-round arsenal legally and easily over the Internet," says Healy at The Times. Over the course of four months, "Holmes received more than 50 packages at his Aurora apartment and the University of Colorado medical school," says Nicholas Riccardi at The Associated Press. He bought his first handgun, a Glock, on May 22 at a brick-and-mortar gun store in the Denver area. He bought a shotgun less than a week later, and an AR-15 rifle a week after that. On July 7, he bought another pistol. He allegedly emerged from an exit into the theater wearing a "ballistic helmet, gas mask, throat-protector, tactical vest, and pants," says Riccardi, "such complete protective gear that responding officers almost mistook him for a member of the SWAT team."
    5. His apartment has a 'mad scientist' vibe
    Holmes' stereo reportedly began to blast loud techno music at midnight, when Holmes was allegedly at the theater, before automatically switching off suddenly at one o'clock. His apartment was rigged with "an intricate series of explosive booby traps, seemingly designed to kill anyone who entered while pursuing his trail," say Healy and Kovaleski. According to NBC's Chris Hansen, who viewed a police video of the apartment's interior, the booby-trap equipment includes wires, a jug full of bullets, two black boxes with red blinking lights, and green soda bottles filled with fluid. Pierre Thomas at ABC News says Holmes "was really like a mad scientist, really like a villain in a movie." In addition, police have reportedly found a Batman poster and a Batman mask in the apartment.
    Holmes will be arraigned Monday in Aurora District Court.(SD-Agencies)