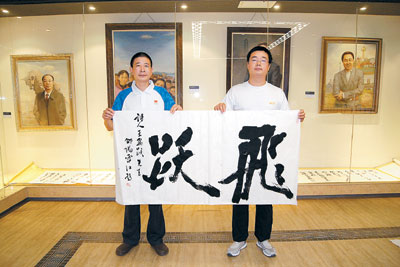 Wang Yuanyuan
    cheekywang@hotmail.com
    "When he met artists from other parts of the country, he [Wang Feiyue] would proudly introduce himself as a Shenzhen poet."
    — Duanmu Gong, one of Wang Feiyue's best friends
    WANG FEIYUE may not be the most famous poet in the country, but the local artist made his name in Shenzhen by devoting himself to promoting the city's development in art and poetry and doing charity work.
    Wang was also dubbed the "Universiade poet" by the public, because in addition to the theme song of the Universiade, Wang also wrote 26 poems for the event, celebrating the city's achievement and spirit.
    The poet's dream was to build a poetry museum in the city, introducing the city's development and achievement in poetry to the world with exhibitions and cultural events. However, just as his wish was getting close to coming true, he died of a cerebral hemorrhage Monday at Yantian District People's Hospital. He was just 49 years old.
    Wang was at a dinner party in Dameisha on the night of July 19, discussing the publication of his new poetry collection with friends and colleagues. "He just had a few drinks. Suddenly, he put his right hand over his eye and said he was in severe pain before losing consciousness. After falling to the floor, he vomited and started babbling incoherently," said Gong Yuhua, Wang's work partner and one of his best friends.
    The shocked dinner guests rushed him to hospital. However, after three days of treatment at the ICU (intensive care unit) of the hospital, he died at about 9 a.m. Monday. He is survived by his wife and teenage son.
    "We cannot believe that he has left us. It was all so unexpected. There were so many things that we intended to do together," said Gong.
    Wang's wife, surnamed Zuo, also expressed her sorrow. "He told me he had been feeling unwell for two weeks right before he died, but I did not pay too much attention because he was still young and healthy," said Zuo.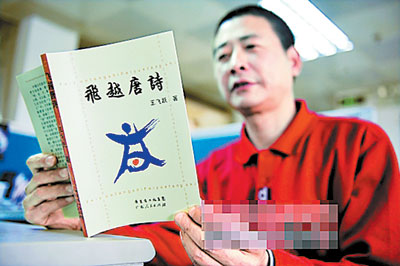 All for the arts
    Born in a small village in Jiangxi Province, Wang came to Shenzhen in 1993 and worked as a journalist at several local newspapers.
    "He did not have the chance to get a university degree, but taught himself how to paint and write. By the time he took a part-time training class at the prestigious Fudan University in Shanghai, he was one of four students who had published work in several national literary magazines," said Gong.
    In 2005, he quit his job and started working as a professional painter, poet and art exhibition organizer.
    "He was a true Shenzhener who was deeply attached to the city. When he met artists from other parts of the country, he would proudly introduce himself as a Shenzhen poet," said Duanmu Gong, another close friend.
    It was not easy to be an independent art exhibition organizer. Wang did not have a stable income, so he decided to sell his home in Futian District to support his art career. Until he died, he lived in a small rented apartment in an urban village with his wife and son.
    Although he had no money, he was described as one of the "most generous artists in Shenzhen" by his friends.
    "When an earthquake hit Yushu in Qinghai Province in 2010, Wang immediately organized a charity event and sold 5,000 of his new books and donated all the proceeds, about 100,000 yuan (US$15,873), to the disaster areas. He is the kind of person who could live very frugally but also be generous with his money," said Duanmu.
    Promoting the Universiade
    When Shenzhen was chosen as the host city of the 2011 Universiade, Wang was very excited and proud.
    "He wrote a poem about the event and made a small poster. He hung the poster in front of his car and drove the car back to his hometown in Jiangxi. He said he wanted to bring the Universiade spirit back home," said Gong.
    "He felt that he had not done enough for the city, so he did voluntary work at the swimming venues. He worked hard every day of the event," said Zuo.
    Wang Liaokuo, Wang's son who is studying at Shenzhen No. 3 Senior High School also paid tribute to his father.
    "My father was a great man. He often told me that one should be a useful member of society, so that's why we were all volunteers," said the younger Wang.
    Wang's biggest dream is to hold exhibitions featuring works of local artists and poems of local poets to other parts of the country, letting more people know about Shenzhen's art development.
    "He worked hard for years to achieve this dream and was getting closer. It is a pity that he died suddenly without getting there," said Gong.