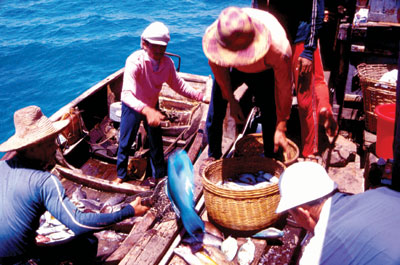 CHINA'S newest city is a remote island in the South China Sea barely large enough to host a single airstrip. It has a post office, bank, supermarket and a hospital, but little else. Fresh water comes by freighter on a 13-hour journey from China's southernmost province Hainan.
Welcome to Sansha, China's youngest city. On July 24, as blustery island winds buffeted palm trees, a new mayor declared the establishment of Sansha, China's newest municipality.
Luo Baoyou, Party chief of Hainan Province, said in a keynote speech that Sansha was established to administer the Xisha, Zhongsha and Nansha islands and their surrounding waters in the South China Sea.
The city administration is on the tiny Yongxing Island, a little more than half the size of Manhattan's Central Park, 350 kilometers southeast from China's tropical Hainan Island. The Central Government approved Sansha last month to "consolidate administration" over the Xisha and Nansha island chains and Zhongsha, a large, completely submerged atoll that boasts rich fishing grounds.
The islands sit amid some of the world's busiest commercial sea lanes, along with rich fishing grounds and potential oil and gas deposits. China has approved the formal establishment of a military garrison for Sansha, though specific details have yet to be released.
China Central Television aired formal establishment ceremony live from Sansha, with speeches from the new mayor and other officials.
The Chinese flag was raised and national anthem played before plaques for the Sansha Municipal Government and the Sansha Municipal Committee of the Communist Party of China were unveiled on a white-columned government building.
Mayor Xiao Jie trumpeted Sansha's important role in protecting China's sovereignty. He said the designation of Sansha as a new city was "a wise decision made by the Party and the government of China to protect the sovereign rights of China, and to strengthen the protection and the development of natural resources."
Xinhua News Agency reported earlier that Sansha's jurisdiction covers just 13 square kilometers of land, including other islands and atolls in the South China Sea around Yongxing, but 2 million square kilometers of surrounding waters.
Sansha means "three sandbanks" in Mandarin and appears to refer to the Chinese names for the disputed island chains and atoll, known in Chinese as the West, South and Middle Banks, or Xisha, Nansha and Zhongsha.
A description from a former People's Liberation Army officer who was among the officials overseeing the island before Sansha was established paints a picture of a harsh and isolated post where officials rotate roles for a month at a time.
"The living conditions are pretty simple," Tan Xiankun, director of the office in Hainan overseeing Xisha and other South China Sea territories, said in an interview in 2010. "It's very humid and hot, more than 30 degrees, and there's salt everywhere. There's no fresh water, except for what's shipped in and what's collected from rain water."
Wei Qiqiang, a 61-year-old fisherman on the island, said fishermen used to live in huts made of wood panels when he first arrived on the isolated island in 1979.
The island has now taken the shape of a city with infrastructure including a small military airport, a sea port, roads, a clinic, a post office and an observatory.
On July 24, 613 local residents living off fishing became official residents of Sansha.
The ship Qiongzhou III currently serves as the only lifeline sending in supplies like rice, vegetables and medicine from the mainland.
The ship with a carrying capacity of 760 tons can take up to 200 passengers. It makes two round trips a month, weather permitting.
Wang Chunyan, an employee of the Xisha Supermarket, said she moved from Haikou, capital of Hainan, to Yongxing Island at the beginning of the year, as she foresaw good business prospects on the island.
The 21-year-old woman said her father had been working on the supply ship for more than 20 years. She has become familiar with the island, and did not worry about the living conditions there before she came.
However, to most locals, the biggest problem with living on the island is the lack of medicare services. But this problem should be solved after the New Xisha People's Hospital is completed. It is scheduled to open by the end of the year.
Huang Liangshan, a local fisherman, said he expects to soon see tourists wandering the city's streets.
"I will set up a small restaurant serving sea food after tourists are allowed to visit. It will make my fishing hauls sell better," said the 32-year-old fisherman who has been living on the island since the age of 19.
His family of seven live in a wooden house, which has all necessary home appliances including a TV set which receives satellite programs, telephone, fridge and air conditioners.
The newly elected city government has planned to make tourism one of three economic engines for the development of Sansha City, besides fishing and oil and gas exploration, according to Xia Jie, the city mayor.
The former head of the Hainan Provincial Agriculture Department said the first Sansha Municipal Government will be devoted to administrative management, economic development, people's livelihoods and environmental protection in the coming five years. (SD-Agencies)