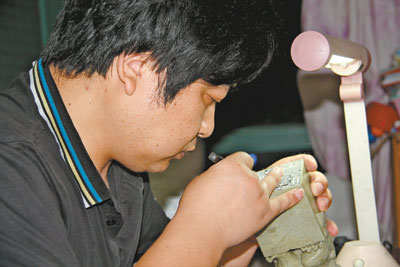 Helen Deng
    deng.hneng@gmail.com
    SEAL carving is one of the four traditional Chinese arts. The other three are Chinese painting, calligraphy and poetry. In ancient China, it was customary for an artist to use both his signature and personal seal on finished paintings, poetry, calligraphy, documents and letters.
    While seal carving as an art is still much appreciated by many people and prices of some rare seals have skyrocketed in recent years, it's hard to make a good living through carving seals.
    For this reason there are few professional seal carvers in China. Shenzhener Che Dilin is one of them. At the age of 34, Che has made a name for himself in Shenzhen's art circle, not only as a carver and calligrapher, but also as a social activist and philanthropist.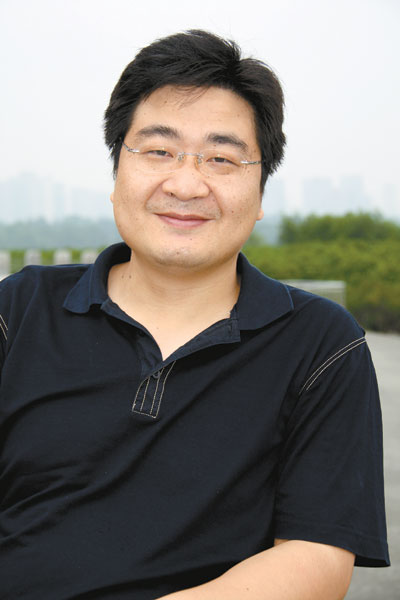 A successful seal carver
    Born into a rural family in Zhejiang Province, Che developed a passion for calligraphy in high school. His Chinese teacher Jiang Youlian organized a calligraphy course for his class. He was the best student on the course. That's why he was later enrolled by Zhejiang Agriculture University (which was later integrated into Zhejiang University) to study calligraphy and seal-carving. He learned from Prof. Lai Yishi of Zhejiang University and later from Prof. Cao Baolin of Jinan University. He has attended many national calligraphy and seal-carving exhibitions, and in September, he will hold his first solo seal-carving exhibition in Lu Weizhao Art Gallery in Pinghu, Zhejiang Province.
    Che has formed his own steady and vigorous style influenced by the styles of the Qin and Han dynasties (221 B.C. - 220 A.D.). "Che Dilin's seal carving works are passionate and innovative — just like his personality," said Jiang Shoutian, vice editor-in-chief of Calligraphy Guide Paper.
    Che is known as a quick carver. Remarkably, he can carve reflexive characters without using a mirror. Characters on a seal are reflexive, and so when the seal is applied on paper, the characters will appear as normal.
    "I've formed a habit of reading characters in a reflexive way," said Che, laughing.
    A social activist
    Che's home has been dubbed the "hotel" for Chinese calligraphers. As the CEO and contributing writer of China Calligraphy Web site, http://www.freehead.com, one of the largest calligraphy Web sites in China and a committed philanthropist, he tries to help young calligraphers, many of whom have difficulty getting started.
    "I understand their difficulties," said Che, who came to Shenzhen in 1999 with only a seal carving dictionary, a carving knife, several changes of clothes, and 700 yuan (US$111) donated by his teachers. "I have received a lot of help. So I feel that I should help others, too," he said.
    Che's first stable job in Shenzhen was as a calligraphy teacher at Luohu Children's Center. He taught there for eight years, teaching more than 3,000 students. He had to quit his job in 2007, when demand for his seal carving works became so high that he decided to make seal carving his full-time job.
    But carving is not everything in his career. As a writer of China Calligraphy Web site, he is frequently invited to report on calligraphy exhibitions. "Last month alone, I took 14 flights!" he said.
    Che is also the secretary of Shennandao Calligraphers' Association, an association of amateur calligraphers. He's the consultant of Handpicked Love Charity Foundation. After the Sichuan Earthquake in 2008, he raised more than 200,000 yuan through China Calligraphy Web site for five students who lost their legs during the quake. In May this year, he raised 30,000 yuan for a child with congenital heart disease with a seal he carved. Last month, he raised 340,000 yuan for a calligrapher, whose child is suffering from blood cancer. He's the guest professor at Zhanjiang Normal University.
    Chen Hongwu, secretary general of China Calligraphers' Association, said: "Che Dilin is not only a talented artist but also a man with a strong sense of social responsibility. He has done so much for the underprivileged. He's always been busy… and I'm always touched by him," he said.
    Despite his busy schedule doing social work, Che always finds time to carve. "I have formed a habit — I have an impulse to carve every time I see a stone!" he said.
    Carving is not an easy job. Sometimes he injures himself with his knife, and his fingers were still stiffened after preparing for his first solo exhibition. But Che is never tired of carving. "I'm happy that I can make a living with a job that I really love," he said.