THE attention-grabbing intentional homicide trial of Bogu Kailai and Zhang Xiaojun opened Thursday in Anhui Province. The hearing started at 8:35 a.m. The People's Procuratorate of Hefei City accused the two defendants of murder by poisoning.
All 140 seats in the courtroom of the Hefei City Intermediate People's Court in Anhui were occupied when the trial began.
Trial details
Bogu, nee Gu Kailai, was born Nov. 15, 1958, in Beijing. She was a practicing lawyer in Beijing. Zhang was born Oct. 22, 1979, in Guxian County of Shanxi Province. He was an employee of the General Office of the Chongqing Municipal Committee of the Communist Party of China (CPC).
According to the procuratorate, Bogu and her son, Bo Guagua, had conflicts with Neil Heywood over economic interests. Concerned about Heywood's threat to her son's personal safety, Bogu poisoned him with the assistance of Zhang.
The two defendants confessed to intentional homicide.
The prosecutors and the defense counsels cross-examined the two defendants. The prosecutors presented their evidence, including the defendants' statements, witness testimonies, material evidence, documentary evidence, records of inquests and examination, expert conclusions and video and audio materials.
When the trial was about to close at 3:10 p.m., Bogu said in her final statement that she accepted all the facts written in the indictment, saying: "This case has been like a huge stone weighing on me for more than half a year. I suffered a mental breakdown after learning that my son was in jeopardy. The tragedy which was created by me was not only extended to Neil, but also to several families."
"I ought to shoulder the responsibility, and I will never feel at ease. I am grateful to the humanitarian care shown to me by those who handled the case. I solemnly tell the court that in order to maintain the dignity of the law, I will accept and calmly face any sentence and I also expect a fair and just court decision," she said.
Zhang said in his final statement that he confessed his guilt, and would say "sorry" to the relatives of the victim. "I hope the court can give me a chance to gain a new lease of life. I really know that I did wrong."
At 3:20 p.m., the trial closed. The chief judge announced an adjournment and the judgment will be announced at a later date.
Reason for re-probe
After Heywood was found dead on the morning of Nov. 15, 2011, then deputy chief of the Public Security Bureau of Chongqing Municipality Guo Weiguo, who has close ties with Bogu's family, was designated to handle the case by Wang Lijun, then vice mayor of Chongqing as well as the chief of Chongqing's Public Security Bureau.
Guo asked Li Yang, then chief of the criminal section of the Public Security Bureau of Chongqing, Wang Pengfei, then chief of the bureau's technical detection team as well as the chief of the Public Security Sub-bureau of Chongqing's Yubei District, and Wang Zhi, then executive deputy chief of the Public Security Sub-bureau of the municipality's Shapingba District to investigate the scene of the crime as well as the case.
Through interviews and on-the-scene investigations, Guo and other individuals found that Bogu was highly suspected of committing the crime. They covered up the fact of Bogu's presence at the scene by fabricating interview records, hiding material evidence and other measures.
Guo and others decided through consultations to list the cause of Heywood's death as sudden death after drinking alcohol, and did not put it on file as a criminal case. They also persuaded Heywood's family to accept their conclusion of the cause of death and cremated the body in Chongqing without performing an autopsy.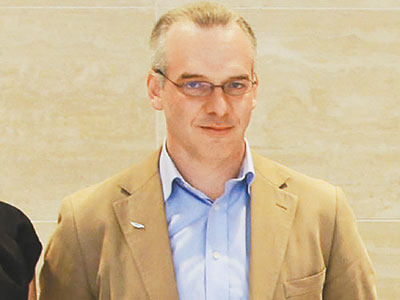 After Wang Lijun entered the United States Consulate General in Chengdu without authorization, the Ministry of Public Security paid great attention to his report that Bogu was suspected of murdering Heywood.
Guo, Wang Lijun, Li, Wang Pengfei and Wang Zhi have all been investigated in other cases.
The ministry found that Heywood had been the victim of homicide. Bogu and Zhang were then considered prime suspects.
Bogu and Zhang were put under residential surveillance March 15, 2012.
The Ministry of Public Security, the Supreme People's Procuratorate and the Supreme People's Court designated the Public Security Bureau of Hefei City, the People's Procuratorate of Hefei City and the Intermediate People's Court of Hefei City to carry out the investigation, prosecution and trial of the case, respectively.
Motive of murder
Bogu said in her testimony that "it was in about 2005 when my son was studying in Britain that Heywood wrote us a letter of self-introduction, showing his intent to get to know us."
Bogu said after she and her son became acquainted with Heywood, she introduced him to serve as a proxy to a company and participate in the planning of a land project, which never got started. Heywood later got into a dispute with Bogu and her son over payment and other issues, and he threatened her son's personal safety.
In court, prosecutors presented e-mails exchanged between Heywood and Bo, showing how the dispute between the two had escalated.
According to the prosecutors, after Bogu learned of the escalation of their dispute, she believed Heywood had threatened the personal safety of her son and decided to kill Heywood.
"To me, that was more than a threat. It was real action that was taking place. I had to fight to the death to stop the madness of Heywood," according to Bogu's testimony.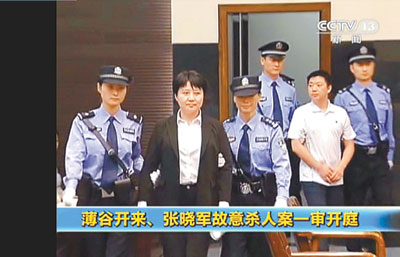 Criminal process
Zhang said in his testimony that on Nov. 12, 2011, Bogu asked him to contact Heywood, saying that she wanted to meet him. Heywood agreed to meet and asked Zhang to book a flight for him. The next day, Zhang escorted Heywood from Beijing to Chongqing. Heywood checked in to the Lucky Holiday Hotel in Nan'an District of Chongqing, as arranged by Zhang.
According to the testimonies of Bogu and Zhang, that evening, Bogu had prepared two bottles — a glass bottle of poison that contained cyanide compound and another medicine bottle of capsulated drugs. Bogu gave the glass bottle to Zhang.
At around 9 p.m., Bogu and Zhang visited Heywood in the hotel, bringing along the two bottles, as well as wine and tea. Bogu drank wine and tea with him while Zhang waited outside. Later, Heywood became drunk and fell in the bathroom, and then Bogu called Zhang into the room and took the glass bottle of cyanide compound.
Zhang said in his testimony that he put Heywood on the bed. After Heywood vomited and asked for water, Bogu poured cyanide compound into a small soy sauce container that she had prepared beforehand, mixed it with water and walked to the left side of the bed. She dripped the toxic mixture into Heywood's mouth as she was talking to him. Then she scattered the capsulated drugs on the hotel floor, making it seem as though Heywood had taken the drugs.
Bogu and Zhang's visits to Heywood's room were recorded by the hotel's security camera. According to the Ministry of Public Security, DNA samples from Bogu and Zhang were found on bottle caps and cup lids at the crime scene.
Cause of death
Witness testimony provided by prosecutors showed that Bogu illegally obtained the poison that contained cyanide compound through other people.
Blood extracted from Heywood's heart and samples of his vomit collected at the crime scene contained cyanide ions, and Heywood's death was caused by cyanide poisoning.
Expert testimony
Bogu's defense counsels filed an application to the prosecutors to evaluate Bogu's mental state at the time of Heywood's death through forensic psychiatric expertise.
After studying her medical records and interrogation transcripts, hearing the testimony of witnesses and talking with Bogu alone, the expert group of Shanghai Mental Health Center concluded that Bogu had been treated for chronic insomnia, anxiety and depression, and paranoia in the past. She developed a certain degree of physical and psychological dependence on sedative hypnotic drugs, which resulted in mental disorders.
However, Bogu had a clear goal and a practical motive in committing the alleged crime. She was also able to determine the environment for committing the alleged crime, and she had a relatively strong awareness of protecting herself.
Bogu has an intact ability to identify the nature and consequences of this alleged criminal behavior and a weakened ability to control herself.
Before trial
Bogu once refused to engage a lawyer. She eventually decided on her own to entrust two lawyers to represent her, and Zhang decided to entrust one lawyer to represent him.
After the trial, Jiang Min, a lawyer with Anhui Tianhe Law Firm who serves as one of Bogu Kailai's defense counsels, said judicial authorities have protected his rights to meet with the defendant and to have access to the case file. Jiang said more than 10 meetings with his defendant had been arranged, and he fully expressed the opinions of the defense in court. (Xinhua)