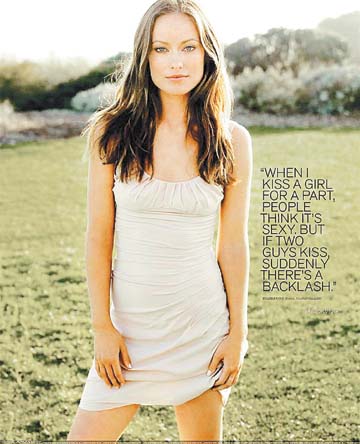 奥利维亚·维尔德在海地成立首个免费中学
Legacy beauty Olivia Wilde first visited Haiti with her journalist parents when she was a child, and she has been heavily involved in the mission to clean up and rebuild the nation following a devastating earthquake in 2010.
The 28-year-old actress decided to first use her fame to bring attention to the people in Haiti. Before she began to assist the relief work she sought the advice of billionaire businessman Bill Gates. He advised the actress to just focus on Haiti if she wanted to make a difference.
"He said, 'Invest your time in Haiti and know your subject well,'" Olivia continued.
Upon Bill's advice Olivia started the Academy for Peace and Justice, the first free secondary school in Haiti. It is expected to welcome 1,200 students when doors open in October 12 and Wilde hopes her efforts will inspire younger generations to get involved in charity.
Reports say that stars including Russell Brand, Daniel Craig, Barbra Streisand and Penélope Cruz were among the famous faces that came forward to support her school. Each of the stars pledged to donate funds each year to help support the project.
"We started so small," Olivia reflected, "and this is such a grand gesture."
She tells the publication, "I'm really excited about the next generation. Philanthropy is no longer just for the rich."
Wilde hopes her efforts will change the world's view on Haiti, insisting the country isn't all poverty, crime, violence and black magic: "People think voodoo is a dark force. It's not true. People also assume there is rampant disease and kidnapping. I've never felt unsafe, even in Cite Soleil, the poorest slum.
"I'm lucky to be working with a local organization because I get to see Haiti differently... I think it's the most beautiful place in the world."
Her continued charity work has earned her a mention as one of Conde Nast Traveler's 2012 Visionaries.