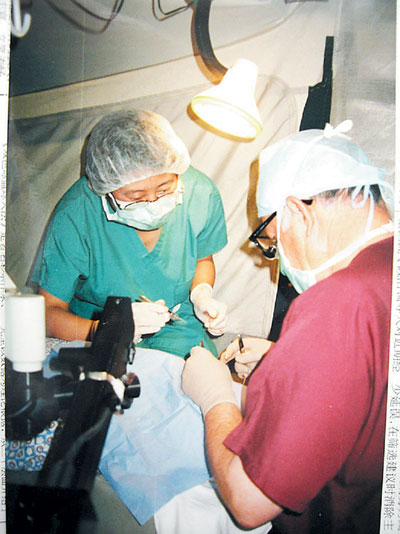 I was amazed by the unity and dedication of the volunteer team. It ignited my passion for helping the needy."
— Shi Lingping, a 50-year-old ophthalmologist, who has been doing volunteer work for between three and six months of each of the past 14 years in northwestern China
Gu Xiaofang, Luo Jie, Martin Li
martin.mouse@163.com
SHI LINGPING, a 50-year-old ophthalmologist, has been doing volunteer work for between three and six months of each of the past 14 years in western China. Along with American volunteer doctors, she has been performing free eye operations on impoverished patients.
Shi has also been a translator, helping her American colleagues communicate with their patients.
A devout Christian, Shi hopes more people will follow her example of volunteering to help the needy.
Following an example
Shi started working as a doctor at Pingliang People's Hospital in northwestern China's Gansu Province in 1984.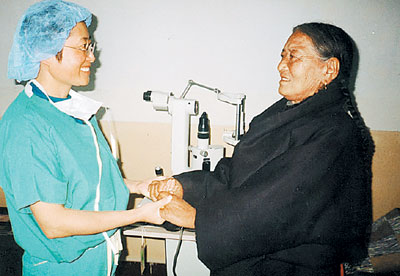 In 1998, a team of volunteer doctors sent by Gansu Inc. arrived at Shi's hospital to provide free eye operations to local patients.
Gansu Inc. is a U.S-based nonprofit charitable organization dedicated to promoting and delivering eye care to people in remote, rural parts of Northwest China. The organization has been operating for 22 years through American volunteer surgical support teams and through monetary and equipment donations.
It was founded by American ophthalmologist, William Christie Conrad, and his wife, who is an Ophthalmic nurse. Conrad has a fondness for Northwest China because his grandparents, William and Jessie Christie, were missionaries in Gansu Province and his mother lived there as a child.
"I was amazed by the unity and dedication of the volunteer team. It ignited my passion for helping the needy. All of the team members were Christians, who were driven by their faith," Shi told Shenzhen Daily.
"The volunteer doctors treated their patients as if they were members of their own family. If an older patient was struggling to walk, the doctors would carry them to the operating table. When some patients vomited after their operations, they went up to give care while Chinese doctors would step back," said Shi.
With the advantage of her operation skills and proficiency in English, Shi was invited to join the voluntary team. Influenced by her colleagues, she later became a Christian.
Dedicating her life to charity
In 1998, Shi completed 400 operations with the volunteer team. However, the following year, her hospital forbade her from getting involved in the organization because it was interfering with her work obligations.
Shi then quit her job and became a full-time member of the charitable organization.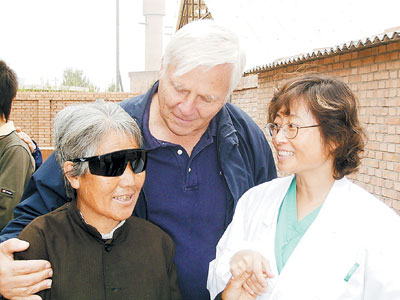 Shi sometimes needs to do between five and six operations a day as well as diagnosing a large number of patients.
Feng Guodong, a miner in Pingliang, lost his eyesight in an accident. His wife committed suicide, leaving him to care for his 6-month-old daughter and elderly mother.
When Shi's team decided to give Feng a cornea transplant, they could not find a suitable cornea. However, the following year Shi's colleagues brought a suitable cornea back from America, helping Feng recover his eyesight in one eye.
Over the next three years, the volunteers conducted operations to cure Feng's cataract and install an artificial eye.
Feng and Shi are still in regular contact. "I never stop thinking about him," said Shi.
Building bridges
In China, individual doctors tend to have more things to do than in America. These include giving operations and diagnosing illnesses. Some of the American volunteers struggle with this workload.
"There are many retired doctors in our team. I have to explain to them how things work in China," said Shi, who frequently goes beyond the call of duty.
"There are five persons in each group of the team: a doctor, two nurses, an engineer and a translator; I'm the only one in the team who can play each of these roles," said Shi.
Moving to Shenzhen
Although the charity covers her living costs while she is in northwestern China, she does not draw a salary from her volunteer work.
Shi came to Shenzhen in 2002 to work at a private hospital.
"I noticed the flourishing development of private hospitals in Shenzhen, which unlike the ones in my hometown, would give me the chance to continue my volunteer work," said Shi.
Shenzhen Shuguang Hospital is supportive of what she does in northwestern China.
"We appreciate her dedication," said Wang Luguo, who is in charge of public relations at the hospital.
Continuing the legacy
This year will mark the end of the American volunteer program in northwestern China. On Sunday, Shi will join her American partners in Gansu for the last time. After that, the charity will turn its attention to Malaysia and the Philippines.
However, Shi will not give up her voluntary work. She has recently joined the Hong Kong Charity Healing Hope Organization (HHO). With volunteers from the HHO, Shi will continue to deliver eye care to needy people in cities in Guangdong Province, such as Foshan and Qingyuan.
"Many young people have left these places to earn money, leaving behind old people," said Shi.
In Shi's computer she stores many pictures with which to remember her past volunteer work. Each picture tells a story.