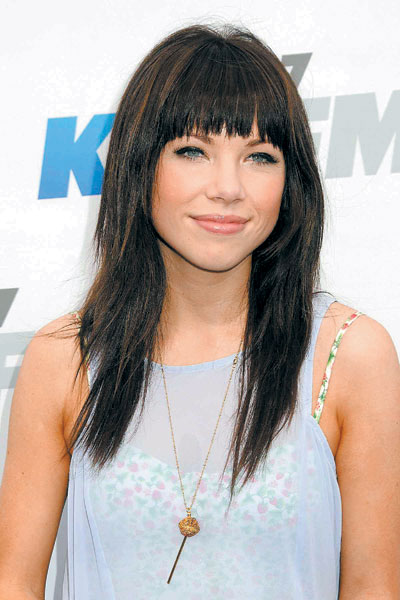 卡莉·芮·杰普森
九月首度在美国发行专辑
Carly Rae Jepsen is in awe of the success she has achieved.
Jepsen, who will open for Justin Bieber at EnergySolutions Arena in Salt Lake City, Uta, the United States, in January, will release her U.S. debut album, "Kiss," on September 18.
The 26-year-old pop star is now a music phenomenon after being a finalist on "Canadian Idol."
Her hit "Call Me Maybe" has stormed the airwaves and Jepsen's musical collaborations include working with Bieber and LMFAO.
The Canadian singer and songwriter wrote or co-wrote songs on the album, collaborating with songwriters and producers Max Martin, Dallas Austin, LMFAO's Redfoo, Toby Gad, Marianas Trench singer Josh Ramsay and Matthew Koma. Jepsen's latest single "Good Time," a duet with Owl City, has climbed to No. 3 on the Pop Chart, No. 5 on the iTunes Singles chart, and No. 13 on Billboard's Hot 100.
"These are lyric and song ideas that I have been collecting over the years," Jepsen says of "Kiss" in a press release. "I can't tell you how lucky I feel to be able to collaborate with some of my dream producers. It has been the most fulfilling experience. The record is pop. It's inspired by Robyn, The Cars, Madonna, and believe it or not, James Taylor. I can't wait to share it with everyone! Kiss."
She's also set to hit the road with Bieber on his Believe Tour, which kicks off in September and is perfectly timed to Jepsen's album's release.
(SD-Agencies)