Wang Yuanyuan
cheekywang@hotmail.com
ON June 28, numerous taxi drivers flew to Shanghai to attend a woman's funeral.
On the same day, a memorial service was held for the same woman at a company headquarters in Shenzhen and more than 480 taxi drivers took time off work to pay their respects.
This woman was Li Xiaochun, director of the operation department of Shenzhen Jinying Taxi Co. Ltd., who died of stomach cancer in Shanghai on June 24. She was 50 years old.
Li was a significant figure in the city's taxi industry. She won many awards for her services to taxi drivers and the company. On the day she died, she was recognized as one of the city's outstanding Communist Party members.
"Li was a great person. She was tough but fair and could always be relied on. Whenever you had a problem, any problem, she was always ready to listen and help. She helped countless people," said a taxi driver from the company.
A tough leader
Born in Shanghai, Li was once a textile worker and policewoman. She joined the State-owned taxi company in 1993.
"She did not set out to be special, she just did her party with diligence and charm, whatever it was," said Chen Junjiang, an official of the company.
As the director of the operation department, Li never asked for commissions from taxi driver and helped the company gain a reputation as the fairest taxi company in the city. "I will never allow this company's taxi drivers to be taken advantage of. Anybody who treats our drivers badly will be punished," she said.
In the taxi industry, many operation directors sell taxi drivers' licenses illegally, so many licenses simply go to the highest bidder.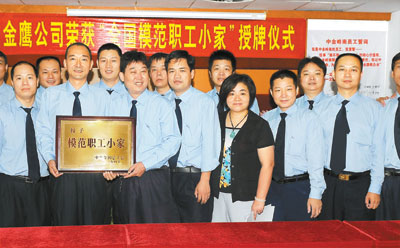 "Li was not like that," said Ding De'an, one of the drivers.
Ding first met Li eight years ago. "I wanted to be a taxi driver but thought I could only get a license if I paid a commission to the operation director, so I went to see Li, but she was angry. She said that I should go through the legal channel which is more like a lottery. It turned out that I won," Ding said.
Another driver surnamed Zhang had the same experience. "It was a large amount of money for a newcomer in Shenzhen, so I didn't bother trying with the bidding registration. But Li called me several times, persuading me to register. I had no choice, so I told her that I did not have enough money to bribe a director and that I may as well give up. She was angry, saying that I should not consider breaking the law to get a job. She also helped me get the preferential policy from the company and pay a smaller deposit to get a taxi. She is the reason why I have had such a comfortable life in Shenzhen," said Zhang.
A caring official
To many drivers, Li was like a mother, sister and close friend rolled into one.
"If you have a problem go to Li," became a semi-official catchphrase among drivers at the company.
"Over the past 20 years, Li had helped taxi drivers overcome problems of all kinds. If a driver was injured in an accident, she would always be the first to visit them in hospital. Many drivers would also go to her for help with their personal problems," said Chen.
Once Li visited a driver, Tian Yinhai, at his home in Longhua New Area in 2005 and learned that the family couldn't afford their daughter's university tuition fees.
When Li returned to the company, she suggested setting up a private fund to help drivers put their children through university.
"This proposal was approved by the company. Fifty-one drivers have received support in paying for their children's university tuition fees," said Chen.
Many taxi drivers in Shenzhen had what Li thought was a bad habit — gambling.
"Li disapproved of our gambling, saying it was a bad habit that tore families apart. So she would frequently push the company to take action on banning gambling among drivers," said Ding.
"Once she called me in her office after learning I gambled with colleagues. I was scared, but she did not preach. Later she called my wife, persuading her to talk to me about my gambling. I was so ashamed I decided to quit gambling. I have bought a big house in my hometown with the money I saved. Looking back, this was made possible by the care she showed to me," said Ding.
A supportive family
Li had a supportive and understanding family.
Li's husband, surnamed Chen, was relocated back to Shanghai in 2001 and has lived there since ever. "Li passed up the opportunity to transfer to Shanghai with me. She told me she could not leave the company," said her husband.
Li's sister also spoke of a generous but stubborn individual.
"My sister was very warmhearted but she was headstrong. When she was working at a sock factory in Shanghai, she helped a colleague overcome hepatitis A, so it was natural that she would help taxi drivers with their problems," said Li Ping, Li's older sister.
Li was also the party organizer of her family. "For years, she brought all our relatives together to celebrate the Spring Festival in Shenzhen. In our big family, she was the only one who had the energy and power to talk people into coming all the way from Shanghai and other parts of Guangdong Province," said Li Ping.
Every time the family got together in Shenzhen, many taxi drivers would offer to help Li, but Li always refused. "Many drivers were not happy, saying they should help her because they were brothers. But she did not want to be responsible for causing a driver to miss out on the lucrative Spring Festival period. I am proud that I had such a sister," said Li Ping.