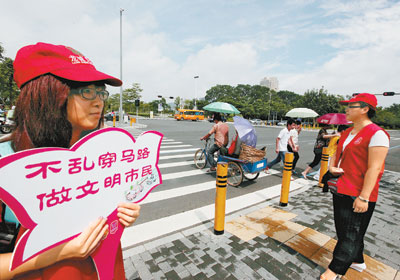 Civility rules spark debate about public behaviors
Martin Li
martin.mouse@163.com
SHENZHENERS have until Sept. 10 to comment on proposed rules that would impose fines for behaviors deemed uncivilized, such as littering, spitting and smoking in public places.
The rules are nearing adoption and have triggered strong reactions this summer both in support, from people who feel they would clean up city streets, and against, from people who fear that Shenzhen would become a fine-heavy "nanny state" similar to Singapore.
The standing committee of Shenzhen's legislature has been reviewing the draft regulations for several months. The regulations would promote civilized behaviors in public and penalize some forms of behavior deemed uncivilized.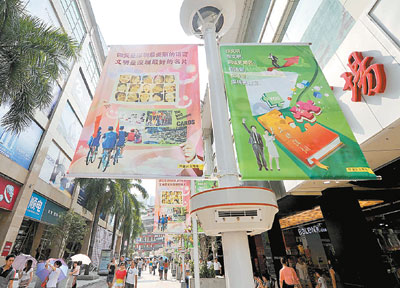 The Shenzhen Civilized Behaviors Promotion Regulations, as they are called, consist of five chapters, with the second chapter devoted to provisions that encourage civilized behaviors such as charity work and volunteerism. The third chapter details the fines that would be handed out to residents found guilty of uncouth public behaviors such as spitting, littering, making graffiti and throwing garbage out of buildings or vehicles. Fines for those particular offenses would be 200 yuan (US$31).
The fine for damaging public greenery would be 500 yuan. The heaviest punishment seen in the draft is a 10,000-yuan penalty that would be imposed on people who illegally occupy or damage public sanitation facilities.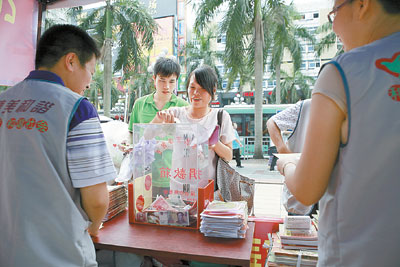 The fine for smoking in public nonsmoking areas is 500 yuan.
Some penalties proposed in a previous version of the regulations, such as a 5,000-yuan fine for littering and a 500,000-yuan penalty for damaging precious old trees, are not in the latest draft.
The previous version also proposed an additional 1,000-yuan fine for people who have been penalized for uncivilized behavior five times in two years. The new draft changes that threshold to three offenses in one year.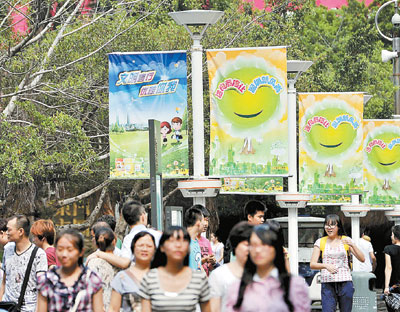 Violators would have their fines halved if they pay them at designated banks within seven days of receiving a penalty notice that indicates the fine couldn't be collected on the spot.
However, the latest draft fails to specify who would enforce the regulations, or exactly how. Instead, it says the city government would be in charge of enforcement but all related government departments, such as finance, urban management, civil affairs and public security administrations, would also be involved.
In an earlier public survey by the legislature, residents asked about enforcement of the legislation once it was enacted.
"It would be a very good step for Shenzhen's government to legislate against uncivilized behaviors," said Guo Xiaohui, a 50-year-old resident of Luohu District. "Personally, I cannot stand people who let their pets defecate on the street. To punish these people would be good for society. But I also think it is important for the police and related administrations to supervise citizens once the rules are approved. Otherwise, the legislation would be in vain."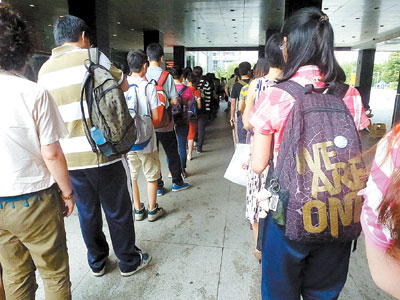 The latest draft allows local courts to set up special tribunals to deal with lawsuits and other legal issues concerning behavior violations.
In response to residents' concerns about how revenue from the fines would be used, the draft says all money from fines would go to the national treasury.
Residents can voice their opinions by sending an e-mail to guojs@szrd.gov.cn or sending a fax to 8200-1134 or 8200-1041, before Sept. 10.
Harsher penalties in foreign countries
Martin Li
Martin.mouse@163.com
DANIEL JAMES NEWSHAM, a 28-year-old British man, said earlier this year that it would be a "great idea" to legislate citizens' behaviors in public.
"I was shocked by how people behaved here in Shenzhen, and by how police would not stop people who spat or littered on the street," said Newsham, who has been living in the city for six years and teaches IELTS (International English Language Testing System) classes.
"I sometimes ride an electrical scooter, which is banned (on some roads) in Shenzhen. But when the police see me, they don't stop me. So I think fines or other punishments would be great to ban these uncivilized behaviors," Newsham said. "In my country, we don't have equivalent legislation but we do have some laws banning smoking or drinking in certain places."
Mike Lawrence, an American editor with Shenzhen Daily, aired a different view in an opinion piece earlier this summer.
"Using legislation to ban and punish uncivil public behavior such as spitting … would be like using a rolled-up newspaper to stop an elephant," Lawrence wrote. "You can swat and swipe at it all you want, wasting valuable energy and time, but the elephant's not going to stop unless it wants to — unless it comes to that decision on its own. Swatting will only make it irritated."
Lawrence wrote that the trick is to make it good for people to adopt clean habits and care for their communities, rather than make it bad for them if they don't.
"Wouldn't it be better to give the elephant a bath and persuade it to clean itself up, for its own benefit?" Lawrence asked. "And who's to say the elephant needs to stop in the first place?"