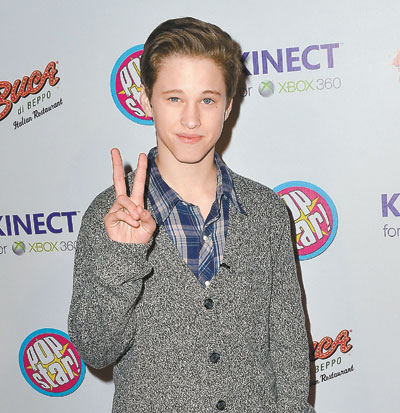 美国16岁创作歌手瑞恩·比提发布新曲音乐录影
Ryan Beatty, the 16-year-old singing sensation from Clovis, California, has built an uncanny following and buzz within the entertainment industry as its newest breakout star.
Beatty has built a worldwide following with over 30 million views on YouTube and 230,000 subscribers to his YouTube channel.
On Sunday, Beatty unveiled the music video for his new single "Hey LA," an infectious sun-drenched ode to the City of Angels on EW.com. The song, which falls into the same bright, California-pop wheelhouse as Andy Grammer's "Fine By Me," earned airplay on radio stations in Las Vegas .
The Web celebrity released his debut EP "Because of You" in late July, and it reached number seven on the all-genre iTunes album chart — as well as number one on the pop albums chart. Not bad for a kid who doesn't have a record deal!
The budding star co-wrote the song after his first visit to LA, where he recently moved with his family to officially pursue a career in the music biz. "It took two days to film," says Beatty, who essentially had to shoot every scene twice in order to achieve the clip's nifty transitions between green screen in-studio performance and glossy city life.
"Sometimes I had to get the same exact movement I was doing in the green screen shot," says Beatty. "I had to make sure every single part of my body was moving at the same time as it was on the green screen."
(SD-Agencies)