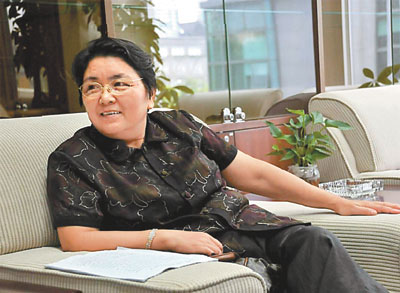 Martin Li
martin.mouse@163.com
AS the owner of a small electronics company, she may not be considered a player by Shenzhen's high-flying businesspeople, but Huang Wenyun is a big name in China's credit field. She is a pioneer of the country's credit system and has dedicated the past 12 years to developing the system.
Ten years ago, she funded a research team to examine the credit systems of the United States and Europe and wrote four letters to Zhu Rongji, then premier of China. These efforts led to a move to develop the country's credit system six years earlier than originally scheduled.
Aged 55, Huang is currently busy writing detailed suggestions on the country's credit management system.
"When they are completed, I will send them to the [incumbent] premier for reference," said Huang.
Victim of counterfeiting
Huang came to Shenzhen in 1985 from her hometown in Wuxi, Jiangsu Province. The 28-year-old came to do foreign trade with her business partner. Seven years later, she established a company that specialized in toys that had educational value.
After devoting much time and money to developing her products, Huang's business became hugely successful.
However, she soon met with misfortune. One of her products, a toy that was expected to achieve market sales of 10 million yuan (US$1.6 million), was counterfeited and sold across the city.
"I recovered less than half of what I had spent on the development and promotion of the toy," Huang recalled.
Huang's suffering was exacerbated by the fact that the country's credit system was undeveloped.
On a visit to the United States in 1999, Huang was impressed by Americans' emphasis on credit construction. "Americans take credit very seriously, where a powerful credit system covers loans, property insurance, medical insurance, endowment insurance and reemployment. A person may not be able to find a job if he or she has a bad credit record," said Huang.
Four letters to premier
Realizing the importance of a credit system, Huang wrote a letter at the end of July 1999 to then premier, Zhu Rongji, proposing the construction of a personal credit management system.
"As a conscientious Chinese citizen, I have been involved in business for many years and have a deep understanding of fairness and honesty in business. Completion of a fair credit system will play an important role in the development of the country's industrial circles," Huang said in the letter.
Nowadays, it is easy for banks to check people's credit record in a credit information system when considering a loan. However, few people in China understood the importance of credit 12 years ago.
Huang's letter caught Zhu's attention, who transferred the letter to the then deputy head of the central bank— the People's Bank of China, Shang Fulin, and requested that action be taken.
On July 1, 2000, China's first personal credit information system opened in Shanghai, through which people's credit record could be checked.
"I didn't expect Premier Zhu to give such a quick response," recalled Huang.
Huang was encouraged to provide professional support to the construction of the country's credit system.
She spent 300,000 yuan to cooperate with the Institute of World Economics & Politics of the Chinese Academy of Social Sciences to set up a special research team in 1999, which involved Lin Junyue and Gao Lu, two young scholars who had studied in the United States and Europe, respectively.
Huang funded and sent Lin and Gao to study credit management in the United States and Europe.
The resulting report was titled "How to build China's social credit management system" and was submitted by Huang to Zhu in January 2000.
Zhu soon summoned 10 related ministries to a meeting, discussing the issue.
Huang continued to visit domestic cities and summarized the problems hampering the development of the country's credit system. For the third time, Huang wrote a letter to Zhu in April 2002, which was followed by a meeting of 12 ministries.
Buoyed by her success, Huang funded the writing and publication of two books on social credit systems, which helped further pioneer the country's own system.
Influenced by Huang, the Ministry of Education in 2002 approved Shanghai University of Finance and Economics and Renmin University of China to open credit management courses to postgraduates. Now, there are more than 20 domestic universities that offer majors in credit management.
In her fourth letter to Zhu, Huang mentioned high-tech crimes and proposed the construction of a State information security system to protect information.
At the end of each of Huang's four letters to Zhu Rongji, then China's premier, she identified herself as "Huang Wenyun, a Shenzhen citizen."
No regrets
Huang's devotion to helping develop the country's credit system has left her business sluggish. She has lost orders to competitors and seen a reduction in her company's market share.
"I don't regret the damage done to my business, because we all must make sacrifices to pursue our goals," said Huang.
"My father used to be head of a factory in Shanghai. He was dedicated to his job and even refused to see a doctor when he was ill. He died of cancer. His dedication touched me. Each person should assume responsibility to make his or her contribution to society," said Huang.
"It is satisfying to use one's abilities to do good," said Huang.
Still persevering
Huang is continuing her work on helping to develop the country's credit system.
She is currently focusing on the incomplete regulation of the credit system. The system still lacks a unified standard and connection rules.
She is thinking about the framework of a national credit management system.
"Once I come up with detailed suggestions, I will write and send them to the [incumbent] premier for reference," said Huang.
"The preservation of a market economy requires a spirit of trust. Credit is very important to building this trust. China has to build its credit system to develop a market economy. So my work matters," said Huang.
Huang has come in for much praise from illustrious people.
"Huang is a true pioneer," said Lin, who is deputy head of China Market Credit Management Association.
Jiang Shaoli, who is deputy head of Shenzhen Xintu Internet Technology Co. Ltd, said Huang has a "credit complex," which explains her dedication to the cause.
"Huang has turned down offers of consultancy roles from many companies, but she offered free consultation to our company because it is located in Shenzhen," said Jiang.
Jiang's company is the only domestic company engaged in personal professional credit management.