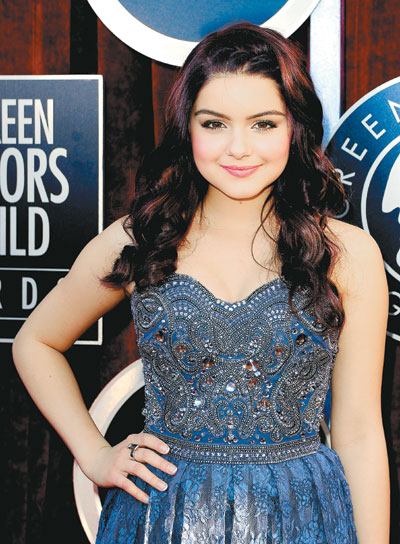 阿芮尔·温特
加盟《蝙蝠侠黑骑士归来》
Ariel Winter, one of the stars of the Emmy-winning "Modern Family," identifies herself as an avid reader who'll pick up a comic book anytime she has a chance.
"I go into comic book stores and I can be in there for hours," Winter said. "It's truly amazing when you open a comic book, because you're immediately sucked in from the first line. The writing, the graphics, and the artwork — it makes you feel like you're inside the story."
She also self-identifies as someone to whom female empowerment is very important, and for whom it's a privilege to play the first female Robin in Warner Premiere's "Batman: The Dark Knight Returns, Part 1," which came out on Blue-ray and DVD on Tuesday.
"It's really cool to be the first female animated Robin," said Winter. "There's been so many amazing boys, but I think I can just bring something new that the fans never have experienced. So I'm really honored to be part of such a fantastic project.
She plays Carrie Kelly, of course, the Robin of Frank Miller's seminal Batman work.
She said: "Carrie is sort of a street kind of gangster girl who lives in this shady part of Gotham City. She's always dreamed of meeting her hero, Batman. One day she's walking with her friend Michelle, and they get mugged by the Mutants — but Batman saves her. So she then sets out to be Batman's partner in crime, er, crime-fighting. And eventually, she succeeds and becomes Robin."(SD-Agencies)