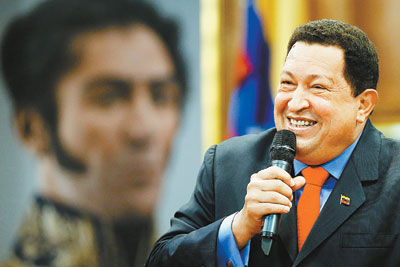 Venezuelan President Hugo Chavez won re-election by defeating opposition leader Henrique Capriles by a small margin. It was Chavez's fourth election victory in nearly 14 years in office which gives him another six-year term to cement his legacy and press more forcefully for a transition to socialism in the country with the world's largest proven oil reserves.                         
    THE fiery socialist Hugo Chavez on Oct. 7 won a third six-year term as president of Venezuela by defeating his youthful, more moderate challenger, Henrique Capriles.
    Though his margin of victory was much narrower than in past elections, he still won handily with 54 percent to 45 percent for his opponent on a record turnout of 81 percent, the national election commission said.
    Chavez's election win would extend his rule to 20 years, delighting both his power base among the South American country's poor and allies from Cuba to Bolivia, who depend on his cheap oil shipments and other aid.
    "Some media keep talking about Venezuela's dictatorship, the tyrant Chavez," Chavez said.
    "Well, we have a democracy here that has again been reaffirmed and ratified, a totally transparent, quick and efficient system. If you want to see a vigorous, solid democracy, come to Venezuela. It was a perfect day."
    Chavez on Tuesday hailed his comfortable re-election as evidence of Venezuela's "perfect" democracy and mocked his foes' depiction of him as a dictator.
    The opposition has long characterized the 58-year-old Chavez as an autocrat, citing his style of government, aggressive rhetoric, tough treatment of critics at home, and friendships with authoritarian leaders around the world.
    Chavez and his supporters, however, point to his dozen or so vote wins during his 14-year-rule, the devolution of power and resources to grass-roots local authorities, and his own humble background, as proof of his democratic credentials.
    As is his custom after election victories, Chavez has been projecting a more moderate image, even telephoning Capriles with whom he had not spoken during the fractious campaign.
    While his direct connection with masses ensured his re-election, the opposition's big share of the vote reflected a real and growing anger at Chavez's failure to fix basic problems such as violent crime, potholed roads, electricity blackouts, and entrenched corruption at all levels.
    "I think he just cranked up the patronage machine and unleashed a spending orgy," said Michael Shifter, president of the Washington-based Inter-American Dialogue think tank.
    But Shifter also noted the affinity and gratefulness Venezuela's poor feel for Chavez. "Despite his illness, I still think he retains a strong emotional connection with a lot of Venezuelans that I think were not prepared to vote against him."
    "They still think that he's trying hard even if he's not delivering what he promised, that he still has their best interests at heart," Shifter said.
    Chavez will start his new six-year term in January, after 14 years in power. But there is uncertainty about at least some of his direction.
    On the night of Oct.7, he said he planned to take the country farther down the road to his version of "21st century socialism" — but he has yet to make clear what that means.
    Analysts said it could include steps to extend state control further over portions of the economy, possibly through a new wave of expropriations of privately owned companies.
    He is likely to increase emphasis on a system of thousands of so-called communes, community councils that are meant to encourage grass-roots democracy like the creation of communally run businesses. But Chavez may be hindered in the short term by a looming economic reckoning, which economists said could include a sharp cut in government spending, a devaluation of the currency, and an increase in inflation.
    The government used a huge spending increase to boost the economy and consolidate support before the election, according to Ricardo Hausmann, the director of the Center for International Development at Harvard University. At the same time it used price controls and cheap imports to tamp down inflation.
    "They engineered an electoral year boomlet that is now going to fizzle," said Hausmann, who supported Capriles. He predicted a recession that could bring political consequences. "I think there's going to be disappointment with Chavez fairly soon," he said.
    Attention is now focused on Chavez's health. Any recurrence of his cancer would dramatically change the political landscape and interfere with his plans for a new term.
    He has been fighting cancer, and his illness forced him to maintain a reduced schedule during the campaign. But he has refused to provide details about the cancer, including the type and where it was found. That has led to speculation that he may become too ill to govern and may eventually have to step down.
    Chavez has built a highly centralized and personalized administration in which he makes most important decisions, and he commands near savior status among some supporters. That combination is unmatchable by anyone else in the administration, complicating succession.
    If a president dies or leaves office in the first four years of his term, the Constitution calls for a new election. In the event that Chavez's health deteriorated, that provision could offer the opposition another shot at the presidency.
    What seems unlikely to change is Chavez's list of international detractors and supporters.
    Venezuela is a major oil supplier to the United States, but political relations are tense. Chavez criticizes the United States as an imperialist power bent on having its way in Latin America and elsewhere. On Monday, the White House press secretary, Jay Carney, acknowledged "differences with President Chavez," but congratulated "the Venezuelan people" on a peaceful election.
    Cuba offered a message of support for Chavez, who helps prop up the Cuban economy with cheap oil. President Raul Castro congratulated Chavez in a message published in Granma, Cuba's state newspaper, saying his re-election showed the strength of his revolution "and its unquestionable popular support."
    Born into a working-class family in Sabaneta, Barinas, Chavez became a career military officer, and after becoming dissatisfied with the Venezuelan political system, he founded the secretive Revolutionary Bolivarian Movement-200 (MBR-200) in the early 1980s to work towards overthrowing it. He led the MBR-200 in an unsuccessful coup against the Democratic Action government of President Carlos Andres Perez in 1992, for which he was imprisoned. Getting out of prison after two years, he founded a social democratic political party, the Fifth Republic Movement, and was elected president of Venezuela in 1998.
    He subsequently introduced a new constitution which increased rights for marginalized groups and altered the structure of the Venezuelan Government, and was re-elected in 2000. During his second presidential term, he introduced a system of Bolivarian Missions, Communal Councils and worker-managed cooperatives, as well as a program of land reform, whilst also nationalizing various key industries.
    He has presided over an oil boom and has spent billions of U.S. dollars on social programs ranging from cash benefits for single mothers to free education.
    At home, casting himself as an heir to independence hero Bolivar, Chavez has poured billions of oil revenues into anti-poverty programs, and skillfully used his humble roots and folksy oratory to build a close connection with the masses.
    But he has suffered declining support due to one of the world's highest murder rates, 18-percent inflation, a deteriorating electrical grid and a bloated government accused of endemic corruption and mismanagement.(SD-Agencies)