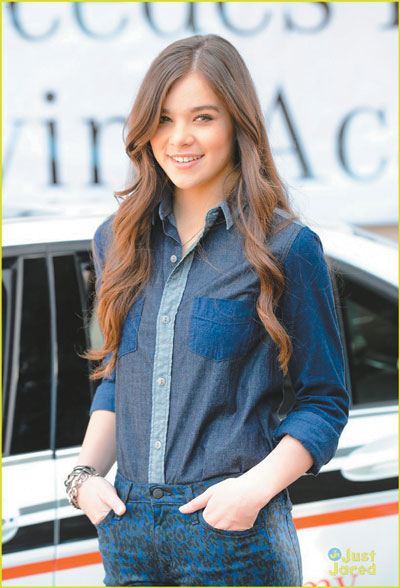 海莉·斯坦菲尔德
宣传青少年安全驾车
Hailee Steinfeld looks a blue jean beauty during the opening event for National Teen Driver Safety Week on Monday morning in Los Angeles.
Along with students at Fairfax High School, the 15-year-old Academy Award nominated actress in the 2010 film "True Grit" joined Impact Teen Drivers, California Highway Patrol, Los Angeles Police Department, and other advocates to increase awareness of the importance of safe teen driving.
Steinfeld, a California native, is a student herself having only recently started learning to drive in anticipation of her 16th birthday in December. "Driving is a freedom and privilege that many teens take for granted," said Steinfeld.
"As I am learning to drive and my friends are, too, it has become more of a personal issue for me to help spread the word about safe driving among my peers. I realized I need to do my part in getting the skills needed to make good decisions on the road through more extensive training."
The event featured a distracted driving demonstration highlighting the importance of safe teen driving and stopping the NO.1 killer of young people in America — reckless and distracted driving.(SD-Agencies)