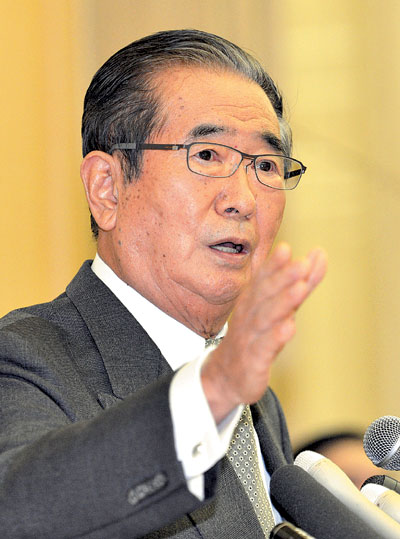 Tokyo's outspoken and nationalistic Governor Shintaro Ishihara, who recently played a key role in reviving a bitter territorial dispute with China, said Thursday he is quitting after nearly 14 years in office to form a new political party ahead of expected national elections.
    TOKYO Governor Shintaro Ishihara resigned Thursday to form a new national political party, ahead of expected general elections in Japan.
    He said that he wants to fix the nation's fiscal and political problems. He blamed the central government and bureaucrats for obstructing policies he believes would benefit the country.
    "We must change the inflexible rule of the central government bureaucrats," he said, comparing their influence to the dictatorial rule of the shogun.
    "As of today, I will resign as the Tokyo governor," he told reporters.
    The 80-year-old, serving his fourth term as governor, is known for making provocative comments.
    He angered China earlier this year when he proposed that Tokyo buy and develop a cluster of uninhabited islands, Diaoyu Islands, in the East China Sea claimed by China and Japan.
    The national government responded by buying some of the islands from their "private owner," saying it would not develop them.
    "I'm returning to the national politics by forming a new party with my colleagues," he said. "What I'm trying to do is everything I've been trying to for Tokyo."
    The novelist-turned-politician, who began his current term as governor just April last year said he would be founding a party with other right wing politicians to challenge the two dominant parties in polls that must be called by the end of next year.
    Ishihara said he saw "several contradictions, big contradictions'' in national politics.
    "One contradiction, bigger than anything, is the Japanese constitution, which was imposed by the occupying army (after World War II), and is rendered in ugly Japanese," he said.
    He is demanding the repeal of these pacifist clauses in Japan's constitution, which restricts the activities of the country's armed forces.
    Ishihara, an irascible voice on the national political scene for decades, will co-opt members of the tiny right wing Sunrise Party for his new venture, the Yomiuri Shimbun reported.
    He will also seek to join hands with the bullish mayor of Osaka, Toru Hashimoto, a straight-talking maverick whose recently formed Japan Restoration Party is aiming to seize control of the powerful lower house.
    Ishihara, a four-term Tokyo governor whose provocative opinions on all things foreign have more than once caused an international stir, was due to speak to the press later Thursday.
    Reports of the move come after months of tensions between Tokyo and Beijing over the sovereignty of Diaoyu Islands, which flared after Ishihara said he wanted to buy them for his metropolitan government.
    Nationalists from both sides staged island landings before Japanese Prime Minister Yoshihiko Noda stepped in to outbid Ishihara, who had amassed well over 1 billion yen (US$12.8 million) in public donations towards the cost.
    The government completed Sept. 11 its "purchase" of three of the five islands in the chain.
    Ministers have said the move to "nationalize" the islands was an attempt to maintain the status quo and avoid an escalation in the dispute, with many of the view that a purchase by Ishihara would be inflammatory.
    Ishihara's gambit appears aimed at forcing a new showdown in the island dispute with China. It is based on the view that Japan's main opposition — the conservative Liberal Democratic Party (LDP) — is likely to take power in an election in the coming months and that it would be receptive to his hard-line policies, two officials close to Ishihara said.
    Akiko Santo, a member of the House of Councilors from the LDP, said Ishihara would try to win support from a new government to use the money he has raised from contributors to build some basic infrastructure on the islands.
    Ishihara's deputy, Naoki Inose, has confirmed the plan.
    They claim that construction of a lighthouse, radio transmitter or basic harbor facilities would increase safety for Japanese fishermen. It was not clear how — or even whether — such private funds could be used for construction on "government property."
    But the Japanese Government's move triggered a wave of protests in China that shuttered Japanese factories and stores and disrupted trade.
    Japan's exports to China, its biggest trading partner, tumbled 14.1 percent last month, partly because demand dropped for Japan-branded products including industrial machinery and cars
    On Thursday, four Chinese government ships entered waters around the islands, Japan's coastguard said.
    Last month, former Prime Minister Shinzo Abe was elected to lead the LDP as the party heads into an election that could be called before year end. Abe's selection as his chief aide, Shigeru Ishiba, is a defense expert who has argued Japan should take stronger action to protect territory it claims in disputes with China and South Korea.
    Ishihara first achieved fame while still in university when his novel "Seasons of the Sun" ("Taiyo no Kisetsu") won the Akutagawa Prize in 1955.
    His reputation grew after he entered the world of politics in 1965. He was often outspoken and critical even of members of his own party, the long-dominant LDP.
    He was minister of transport in the 1980s. He dropped out of national politics in 1995, disenchanted with the lack of vision which was bringing the country to the brink of financial ruin.
    But he could not stay out of the limelight for long, and he ran for the post of governor of Tokyo in 1999.
    In his campaign, among other things Ishihara called for the return of the U.S. airbase at Yokoda, near Tokyo, for use as a civilian airport. This certainly appealed to many people due to Tokyo's reliance on the inconvenient Narita International Airport.
    After his election, Ishihara continued to fan the flames of controversy, for example by including in an address to the security forces that they should be ready to defend the country against rioting foreigners in case of a major natural disaster.
    He doesn't apologize for what some critics call xenophobia. "I am a nationalist," he said.
    Ishihara is renowned for his outbursts against China, North Korea, foreigners, immigrants, women and even the French language. He once told reporters he "hates" the American icon Mickey Mouse for not having the "unique sensibility that Japan has."
    To the anger of China, he invited the Dalai Lama and then-Taiwan leader Lee Teng-hui to Tokyo.
    Ishihara wrote the 1989 book, "The Japan That Can Say No," a best-selling paean to ultra-patriotism. He also has tried his hand at screen writing, authoring a film, released in 2007, "I Go to Die for You," that glorified so-called "kamikaze" pilots who flew suicide missions in the last months of World War II.
    (SD-Agencies)