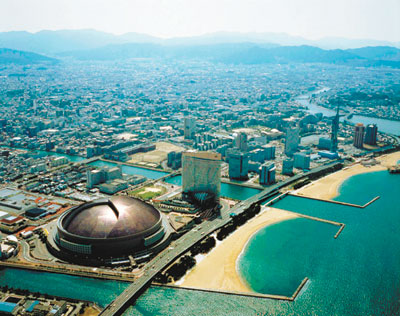 Yu Hairong, Chen Bing, Zheng
Xiangpeng, Martin Li
martin.mouse@163.com
A CITY in the west of Japan, Fukuoka used to be a heavy industry base. It suffered severe environmental damage due to incomplete environmental regulations and underdeveloped infrastructure.
However, the city now leads the way in sustainable development. Monocle, a fashion magazine in London, has ranked Fukuoka as the second-most livable city in Japan. Other publications such as Newsweek in the Untied States heaped similar praise on the city.
Recycling water
Like Shenzhen, Fukuoka has no immediate source of fresh water and has had severe droughts in the past.
"A drought in 1978 that led to 287 days of restricted water supplies spurred a drive by the city government to introduce measures that would prevent such crises from happening again," said Soichiro Takashima, the city's mayor.
The measures included desalinating seawater, and promoting the recycling and saving of water.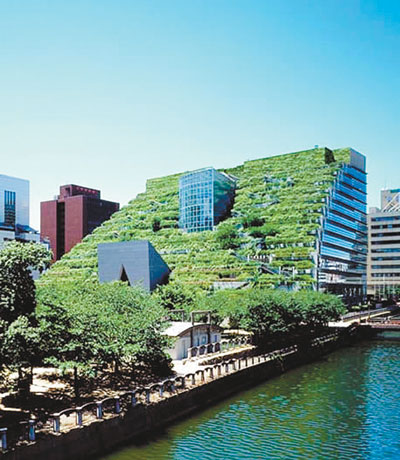 The city boasts the largest seawater desalination plant in Japan, which can supply 50,000 cubic meters of water each day, meeting the demands of 250,000 people.
As well as organizing various publicity campaigns about the importance of saving water, the city government has ensured that each residence in Fukuoka has a water-saving device installed on its faucet.
In addition, the city's two waste water treatment plants, which are located in the middle and east of the city respectively, can supply a combined total of 8,800 cubic meters of recycled water each day. The recycled water is used to flush toilets, water plants and clean roads.
The city has also renewed and renovated pipes to prevent leaks.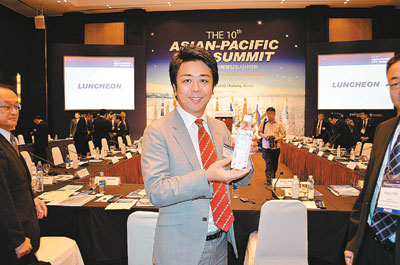 Waste treatment
"In Fukuoka, garbage is classified into flammable, nonflammable and other categories. Residents must store domestic garbage in different bags and send it to designated cabins. Residents can make reservations with waste treatment plants to pay a small fee for recycling large items such as discarded furniture and home appliances," said Takashima.
Fukuoka is the only large city in Japan in which waste is collected door to door at night. "The garbage is collected at night so it won't affect either rush hour, thus avoiding causing inconvenience to commuters," said the mayor.
The flammable waste is sent to four garbage incineration facilities and the heat generated by the incineration is converted to electricity and sold to power companies.
The electricity generated from the waste incineration can supply 50,000 households.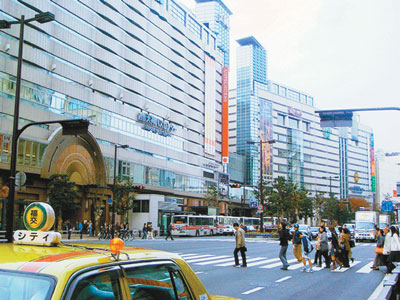 In addition, through advanced technology, nonflammable garbage is processed and buried in landfills, which can be turned into farms, parks and schools.
Special technology is employed to prevent ground water from being polluted.
Fukuoka's mode of waste treatment has set an example to the rest of Japan, as well as 10 other countries including China.
Clean energy
"The Fukuoka government supports the use of clean energy through its policies," said Takashima.
The city has built high-efficiency wind power generators in coastal areas and in the sea.
"We will build more wind power generators in the sea," added the mayor.
The city uses wind and solar energy in many municipal facilities, according to Takashima.
In addition, the city has experimented with the use of hydrogen as a sustainable form of clean energy.
A total of 150 households depend on hydrogen to meet daily demands.
Quality of life
"I visited Shenzhen many years ago before I became mayor. It is a beautiful coastal city and an important bridge connecting the Chinese mainland with Hong Kong and Macao," said the mayor.
"Improving people's quality of life should be the first priority of any city government. It is even more important than GDP. The growth of a city doesn't only mean economic development, but also its ability to meet the many needs of its people. Large cities around the world face enormous challenges in building a liveable environment," added the mayor.
He said city governments should exchange knowledge about development, as this will help cities avoid going in the wrong direction.
"We hope our exchanges with Shenzhen will be abundant," said Takashima.
Mayor of Fukuoka
Soichiro Takashima
SOICHIRO TAKASHIMA was born in 1974 and graduated from the law department of Tokyo University in March, 1997. After graduation, Takashima was employed by Kyushu Asahi Broadcasting Co. Ltd. (KBC), a private media organization in Fukuoka. He is a former news anchor of KBC. In December 2010, he was elected mayor of Fukuoka, becoming one of the youngest mayors in Japan.
FUKUOKA is the capital of Fukuoka Prefecture and is the largest city in Kyushu. It is the prefecture's political, economic and cultural center. The city covers an area of 341 square kilometers and has a population of 1.48 million. Possessing a developed public transportation system, Fukuoka is recognized by international media as a city that has overcome a number of challenges to become livable for a large population. The New York Times described Fukuoka as "a window through which modern design can be understood" and "the world's best place to appreciate masterpieces of modern architecture."
More than 90 percent of local residents agreed about the city's livability, according to a survey done in 2008.