Amber Zhang
chanwenzhang@yahoo.com.cn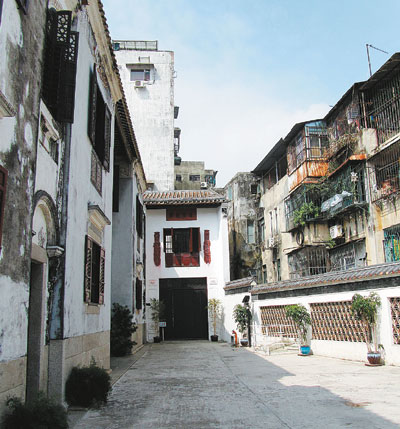 IF you want to behold a vast collection of historic sites and relics but don't want to travel far, take a weekend trip to Macao. As well as the famous Ruins of St. Paul, there are numerous lesser-known sites that are well worth going to see. Each site boasts an abundance of relics that give insight into the region's history.
The Taipa Houses Museum
The Taipa Houses Museum contains five green houses and is in Macanese architectural style, which is heavily influenced by Portuguese architecture. It is considered one of Macao's most important historic sites. The houses were built in 1921 for aristocratic Macanese families.
The five houses are called Macanese House, House of the Islands, House of the Portuguese Regions, and Exhibition Gallery and Reception House. At Macanese House visitors can see examples of the furniture and decorations that were considered fashionable in Macao.
At House of the Islands, photo exhibitions, film screenings, and other activities are held to help visitors learn about the customs, traditions, culinary culture and religions of Macao.
In House of the Portuguese Regions, models wear traditional Portuguese attire to signify which parts of Portugal the settlers came from. Exhibition Gallery periodically hosts a variety of exhibitions and Reception House holds cultural events such as themed food festivals.
Add: Avenida da Praia, Taipa
Opening hours: 10 a.m.-6 p.m., closed Mondays
Ticket: Mop$5
The Virtue and Success Pawnshop
The Virtue and Success Pawnshop was established in 1917 by Kou Ho — a wealthy Macao merchant. The pawn business has historically played an important role in Macao's history and continues to be important to its economy. A study of the photos, instruments, invoices and old documents exhibited at the pawnshop can provide insight into the real estate business in the early period of the Republic of China.
Using earphones provided at the pawnshop, you can listen to the accounts of people who were in charge of the pawnshop's books in the 1930s.
The building is a typical piece of architecture for its period.
Add: 396 Almeida Ribeiro Avenue
Opening hours: 10:30 a.m.-7 p.m., closed the first Monday of every month
Ticket: Mop$5
The Mandarin's House
The Mandarin's House is the former residence of late Qing celebrity Zheng Guanying.
Zheng Wenrui, father of Zheng Guanying, began building the Mandarin's House in 1869. Zheng Guanying and his brothers did extensions, increasing the size of the house significantly. There are few private residences of such size in Macao. Occupying 3,997 square meters, the house has more than 60 rooms. Most of the bricks are green and the walls are made of granite.
The Mandarin's House has characteristics of a traditional Guangdong residence. But it also features a fusion of architectural influences from Western cultures, making it an early example of Chinese and Western cultural interchange.
Add: 10 Travessa de António da Silva
Opening hours: 10 a.m.-6 p.m., closed Wednesdays. Free admittance.
Transportation: Take a boat from Shekou Port for one hour to Macao