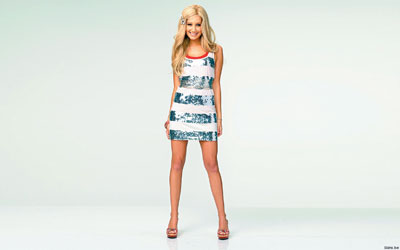 In October, it's almost impossible to turn on the TV, walk into a store, or even go to a football game without being reminded that it's Breast Cancer Awareness Month. Now that we're flipping our calendars to November, actress Ashley Tisdale, best known for the "High School Musical" movies, hopes that we don't forget that there is still a need to fund research for the disease and support for breast cancer patients and their families.
Tisdale, who is the spokeswoman for Puma's Project Pink initiative for the cause, is so passionate about breast cancer because, for her, it's personal.
"At Christmastime last year, we found out my grandma had breast cancer, and she was the first one in our family to have that," Tisdale said, explaining that her grandmother had a mastectomy.
"At that moment it was really, really hard. She's fine now, and we're very lucky, but I really wanted to get involved."
Both Tisdale and her grandmother starred in a public service announcement for Project Pink, which features a line of pink-themed merchandise sold to benefit breast cancer charities. Tisdale laughs as she explains that her grandmother wasn't at all camera-shy. "She was happy to be in it and spread awareness, and just to be in something with me," the actress notes. "It was really special."
Besides her good deeds, Tisdale's also been hard at work with her acting projects, which, as of late, are helping her break out of her image as a squeaky-clean star of Young Hollywood.
The starlet played a call girl in the gritty biker drama "Sons of Anarchy," and she just finished filming her role in the upcoming fifth installment of the raunchy "Scary Movie" franchise.
"For a while I wanted to stay in my comfort zone, but I feel like right now my life, I'm just so into taking chances and growing," she says. "And I think you have to [take chances] in order to grow."(SD-Agencies)