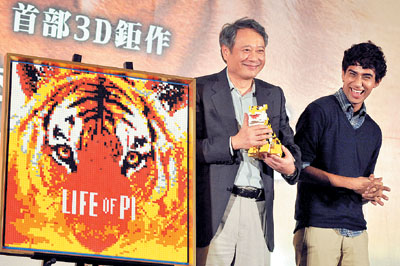 Despite some critical reviews after its premiere at the New York Film Festival a month ago, Chinese-American director Ang Lee's "Life of Pi" is deemed as a big Oscar hopeful. The movie premiered in Taiwan on Wednesday. 
OSCAR-WINNING director Ang Lee said he worked hard during the four years of shooting on "Life of Pi" to give the US$100 million art house film appeal for general audiences.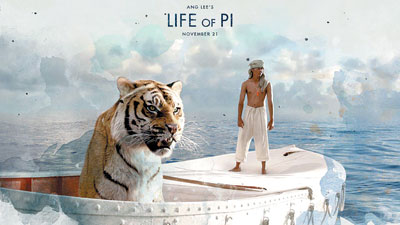 The movie based on Yann Martel's imaginative book stars Indian Suraj Sharma, who plays a boy who drifts on the open sea with a Bengal tiger and a hyena after a ship carrying the rest of his family sinks.
"As an art house film, you can explore the philosophical issues," Lee said at a news conference Wednesday. "But for a popular film, we also need to make the audience feel touched, and that was the difficult part."
Lee said initial reaction to the film had been positive, leaving him to conclude that his "risky experiment" would be a success.
A major problem in the filming, Lee said, was coping with animals on a roiling sea — a problem Lee solved by filming in 3D.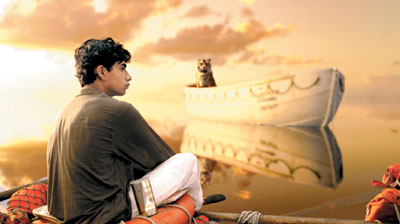 "Life of Pi" is a fast-approaching movie based on a book that does not easily lend itself to a cinematic interpretation, but for different reasons; namely, most of Yann Martel's award-winning source material revolves around a teenager and tiger stuck together on a crumbling raft in the middle of the ocean.
Several noteworthy filmmakers were, at different points in time, attached to plans to take on the project over the past decade (including Alfonso Cuarón, Jean-Pierre Jeunet, and M. Night Shyamalan), but Lee's the only one to follow through.
Lee's decision to assemble a purely international cast should please "Life of Pi" purists; however, his choice to shoot the film with 3D cameras might inspire more caution than joy.
In a featurette on "Life of Pi," Lee explains that he felt the book (which Mann admits he thought was unfilmable while writing it) is so grand in scope and full of wondrous imagery that the film adaptation literally needed "another dimension" in order to fully convey all that on the big screen. Hence, Lee collaborated with such people as Oscar-nominated cinematographer Claudio Miranda ("TRON: Legacy") and stereoscopic compositor Tara Marie Jacobson ("Transformers: Dark of the Moon"), in order to take full advantage of the 3D technology.
The results are something to admire. "Life of Pi" could follow in the footsteps of Martin Scorsese's "Hugo," serving as an example of how a talented storyteller can use the 3D format to genuinely enhance the viewing experience.
"As a new technology, 3D gives the film additional appeal," Lee said.
Much of the film was shot in Taiwan, Lee's home. He said that one of the key settings — a large water tank built at a studio in the central city of Taichung — allowed the 150-strong foreign crew to use its imagination freely and not be restrained by traditional Hollywood production values.
The film is scheduled to premiere on the mainland Nov. 21. (SD-Agencies)