Main voices: John C. Reilly, Sarah Silverman, Jack McBrayer, Jane Lynch, Alan Tudyk, Mindy Kaling Director: Rich Moore
A NOSTALGIC affection for vintage gaming and an openhearted, family-friendly story of self-acceptance and friendship are skillfully interwoven in the colorful "Wreck-It Ralph," a very fun and engaging adventure about a lonely bad guy who wants to be a hero.
Powered by a standout concept delivered in a winning manner — that, in similar fashion to the "Toy Story" franchise, video game characters exist in worlds awakened when humans aren't looking — the film serves as the most natural and effortlessly readymade animated feature for future franchise exploration since "Shrek."
The story centers on title character Ralph (John C. Reilly), the giant-fisted foil to Fix-It Felix (Jack McBrayer) in a classic, Rampage-meets-DonkeyKong-style video game named after the latter. Tired of playing the bad guy for three decades, and ostracized by the Nicelanders, the imperiled apartment dwellers who lionize handyman Felix as their hero, Ralph slips out of his game at the end of each day via Game Central Station, a surge-protector hub that serves as a weigh station between video games. There, he mopes and attends support-group meetings for other video game villains.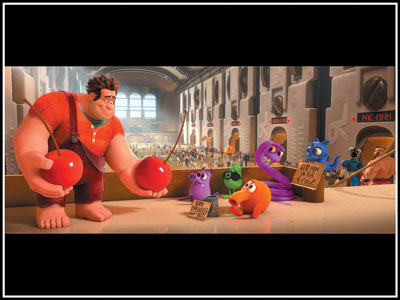 Ralph wants to be a hero, and appreciated. Obsessed with winning a medal (Felix's reward in his game), Ralph slips into Hero's Duty, an intense first-person shooter in which a player joins Sergeant Calhoun (Jane Lynch) and other soldiers in doing battle with marauding "cy-bugs."
Ralph soon gets his medal, but loses it in Sugar Rush Speedway, a racing game ruled over by the merrily demented King Candy (Alan Tudyk). It's there that Ralph meets Vanellope von Schweetz (Sarah Silverman), a spunky outcast and improperly coded "glitch" who just wants a chance to compete with her game's other girls.
Ralph helps out Vanellope, and an unlikely friendship ensues. When the unleashed cy-bugs escape their game and threaten the entire arcade, though, it's up to Ralph to band together with Calhoun and Felix to save the day.
Director Rich Moore (a small-screen veteran of "The Simpsons" and "Futurama") oversees "Wreck-It Ralph" with considerable skill. The film's unique blend of different animation styles is one of its chief selling points (all the video games have their own distinct world, and then there's a separate look for Game Central Station), and the art and animation departments do due diligence.
An explosion of light and color, Sugar Rush Speedway is an inventive, candy-coated fantasy world. Even more amusing in its simplistic detail, though, is the purposefully jerky, 8-bit animation of the older Fix-It Felix game.
The movie's vocal performances are a large part of why it's so agreeable. Reilly captures Ralph's forlorn longing in sympathetic fashion; Silverman is a whirling dervish of rascally, adolescent energy; and Tudyk's lispy, gaily manic King Candy is entertaining and perfectly at home in the more frenzied Sugar Rush Speedway. Only McBrayer stumbles, as his Felix a bit too strongly echoes Kenneth, the earnest but bumbling page he portrays on "30 Rock."
On a narrative level, "Wreck-It Ralph" flags a bit in the homestretch. The idea of Game Central Station feels like a resource that isn't quite fully tapped, and the manner in which some of its action plotting ties together is rushed and not fully fleshed out. Still, screenwriters Phil Johnston and Jennifer Lee, working from a story by Johnston, Moore and Jim Reardon, deliver inventive characters and cycle through plenty of solid one-liners. They also make amusingly effective use of cameos from older video game characters, like Qbert and Pac-Man's Blinky.
(SD-Agencies)