Wang Yuanyuan
cheekywang@hotmail.com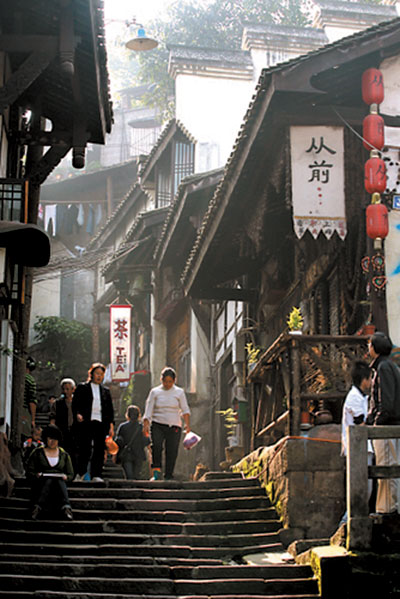 CHONGQING is a major city in Southwest China known for its hot summer, hotpot and hot girls.
As one of the four direct-controlled municipalities in China, Chongqing has a colorful history and distinct culture. It is the economic center of the upstream Yangtze basin as well as the major manufacturing center and transportation hub of Southwest China.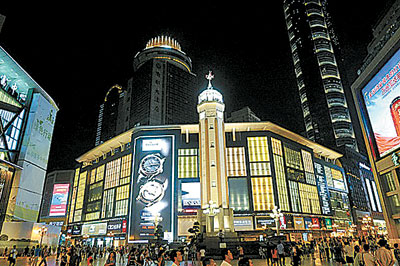 People from the State of Ba supposedly established the city during the Spring and Autumn Period (770-476 B.C.) as their capital. The city was later conquered by the State of Qin (221-206 B.C.). During World War II, Chongqing became the auxiliary capital of the Republic of China and many embassies and government divisions were moved there, many of which are still well protected.
Some tourists find the city's sweltering summer unbearable, but its hot food makes it a good place to warm up in winter.
Cityscape
To many people, Chongqing has a very different appearance to most major cities in China because it was largely built on mountains.
In the old town areas, you can see men sitting by the road with bamboo sticks. The sticks are known as "bangbang" and are used to help people carry heavy loads up steep roads.
Many walkways have stairs. Although most of these have given way to highways as China has developed, you can still experience these walkways if you walk from Chaoyangmen Port to Jiefangbei, the center of Chongqing which used to be the highest peak in the city.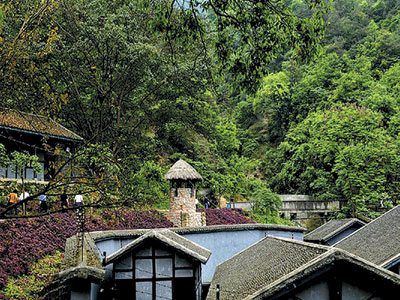 At night, Chongqing looks especially beautiful. The city has spent millions of yuan on a lighting project in Yuzhong District, making the central area shine by the Yangtze River. The best place to observe its nighttime scenery is the square of Chongqing Grand Theater in Jiangbei District.
Historic sites and natural scenery
Chongqing boasts many significant historic sites.
Ciqikou is a 1,000-year-old town in Shapingba District and is also known as Little Chongqing. The town, located next to the Jialing River, was a busy commercial dock during the Ming (1368-1644) and Qing (1644 -1911) dynasties. The ancient town is well protected and there are many local restaurants that offer traditional Chongqing snacks.
Zhazi Cave and Bai's Mansion are also important historic sites. Both are located on Gele Mountain in Shapingba. Zhazi Cave used to be a coal mine, while Bai's Mansion was a holiday home for a high official of the Republic of China. They were later rebuilt into prisons by the Kuomintang government.
Xiling Snow Mountain is the most famous natural resort in Chongqing and is said to be the best alpine ski resort in China. Covering an area of 8 square kilometers, it boasts advanced facilities and has earned the title of "The Oriental Alps."
Delicious food
Chongqing fare is largely a hybrid of Sichuan cuisine and local specialties. The city center is filled with restaurants and food stalls where you can have a filling meal for less than 10 yuan (US$1.57).
Of course, its most famous dish is its super spicy hotpot. Jiangtuan fish is a rare species found in Jialing River. Its meat is fresh and tasty. Hongya Cave and Jiefangbei Food Street are must-go places for a delicious trip.
Transport: Fly to Chongqing from Shenzhen airport.