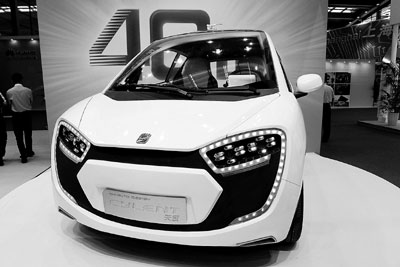 PART of Shenzhen is expected to be covered by fourth-generation (4G) telecommunications technology by the end of next year.
    China Mobile, operator of the city's upcoming 4G network, displayed TD-LTE (Time Division-Long Term Evolution) technology at the China Hi-Tech Fair over the weekend.
    Experts say that TD-LTE technology, developed in China, is now mature enough for China to adopt with full commercial use.
    4G networks can provide connection speeds more than 50 times faster than current third-generation (3G) networks and are regarded as the next growth engine for the world telecom market, as they can draw huge investments in network construction and service development.
    A model of a 4G-equipped electric car is being displayed at the tech fair, as well.
    Passengers in a vehicle with 4G access can watch high-definition videos online, while drivers can talk to other 4G-equipped drivers through in-vehicle WiFi that also provides real-time reports on road conditions. If a 4G-car malfunctions, relevant data can be sent immediately to repair staff who can give quick, accurate information about the problem.
    4G cars are in the research and development phase. Industry insiders said it would take at least one to two years for the commercial use of 4G networks, and only after large-scale commercial use could large-scale manufacturing of 4G vehicles begin.
    4G networks reportedly enable downloads of high-quality songs in one second, and can download a 2.8G Encyclopedia Britannica in 10 minutes.
    At present, 4G networks are being tested in a few commercial buildings in Shenzhen, including Kingkey 100. Many transmission stations are scheduled to be built in Shenzhen by the end of next year, with network coverage expanding across Futian, Luohu, Nanshan and Yantian districts.
    Official statistics show that 327 telecom operators in 99 countries have started construction of LTE commercial networks.
    (SD News)