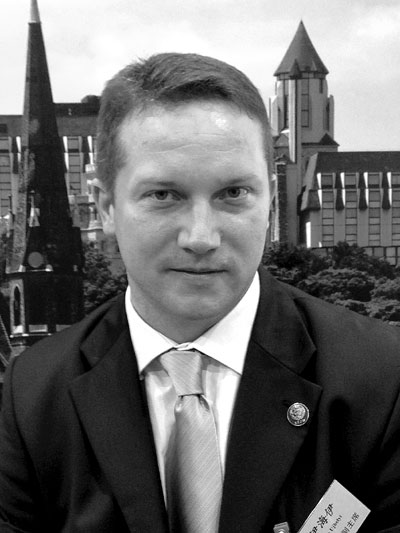 Martin Li
martin.mouse@163.com
HUNGARY is seeking to deepen cooperation with Shenzhen in environmental protection, Istvan Ujhelyi, deputy chairman of Hungary's National Assembly, told Shenzhen Daily last week.
"Hungarian enterprises have established cooperation with Shenzhen in wastewater treatment and water resources protection, now we hope to push forward [with more] cooperation in the field," Ujhelyi said Friday, the opening day of the China Hi-Tech Fair (CHTF) that continues through tomorrow at Shenzhen Convention and Exhibition Center.
Hungary has brought more than 10 enterprises to the CHTF, where they're displaying leading technologies in fields including IT, environmental protection, wastewater treatment and software.
"Suffering a widespread lack of capital in Europe, these enterprises come to the fair because they see the future here. China will be the future of the world's economy, science and technology," said Ujhelyi, who is on his second visit to Shenzhen and first visit to the CHTF.
Ujhelyi said China has consumer markets and capital while Europe has advanced technologies, creating huge potential for cooperation.
While it's a small country with only about 10 million people, Hungary has fostered significant developments in science and technology, Ujhelyi said, noting that 16 Hungarians have won a Nobel Prize.
Shenzhen-based enterprises such as Huawei and ZTE have set up European logistics centers in Hungary.
Hungarian enterprises frequently provide technologies in exchange for Chinese investment or get involved in Chinese projects as subcontractors.
"In addition, Hungary is in the heart of Europe and many Chinese enterprises use it as a gate to enter the European market," Ujhelyi said.
Ujhelyi said he has talked with city officials about strengthening Hungary's collaborations with Shenzhen in biological industries.
Hungary and Israel hosted overseas subvenues of the CHTF in June.
"The fair's subvenue in Hungary, which is in its fifth year, has been growing in size and attracts many enterprises surrounding Hungary. We will spare no efforts to turn it into the largest science and technology fair in Europe," Ujhelyi said.
Besides industrial cooperation, Hungary is also seeking educational cooperation with Shenzhen.
"We'd like to establish cooperation with Shenzhen University in research and development, and exchanges of students and scholars," said Ujhelyi, who met with Shenzhen University officials Friday afternoon.
Hungary has established a technology center in Nanshan District, as an additional platform to promote Hungarian technology locally. Shenzhen Investment Holding Co. is Hungary's main local collaborator.