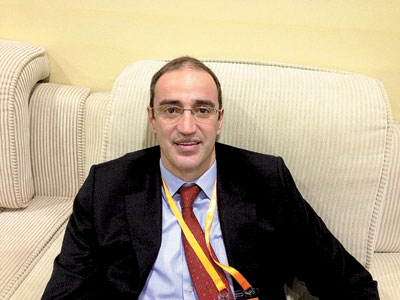 Wang Yuanyuan
cheekywang@hotmail.com
BARCELONA is planning to introduce electric buses and taxis made by Shenzhen-based BYD to promote a clean and smart city, Antoni Vives i Tomas, vice mayor of the City Council in Barcelona, Spain, said Sunday.
The Barcelona council is negotiating with the Shenzhen company on the cooperative effort and more programs are expected to be introduced in the future, Tomas told Shenzhen Daily at the China Hi-Tech Fair on Sunday.
"We think now is a proper time for cooperation between Barcelona companies and Shenzhen companies, so we will build more connections with Shenzhen on the political level to help companies launch more cooperations conveniently," Tomas said.
The city is also negotiating with Huawei and plans to build cooperation with ZTE, as well, in the hope of launching more programs in the telecommunications and electronic fields.
Meanwhile, a group of young artists and architects in Shenzhen will be invited to visit Barcelona next year, through an exchange program focusing on sustainable architecture and urban planning.
"We will take them to tour the city and invite them to participate in our work in intelligent architecture and city planning," Tomas said.
In return, Barcelona will organize a delegation to next year's China Hi-Tech Fair.
"Besides exhibitors at the fair, we will also bring our architects and artists to Shenzhen, letting them build more communications with Shenzhen," Tomas said. "We will also bring some famous paintings from our Catalonian artists, such as Miro and Picasso, to exhibit in Shenzhen."
Barcelona is working on a Smart City project that includes plans for new-generation buildings with greater power supplies, less emissions and higher efficiency over 40 to 50 years.
"Barcelona has a history of about 2,000 years. If we can do this, so can Shenzhen. Intelligent building is something both new and old cities need to deal with, so we can jointly work together on more projects in related areas," Tomas said.
Barcelona's delegation next year will continue the city's attendance at the CHTF, which it previously attended from 2004 to 2009.
"We suspended attending the fair because at that time we thought it was too early for us. At that time, our companies had little knowledge about China and Chinese markets, while many Chinese high-technology companies were not strong enough for global markets," Tomas said. "But now is different and we believe that the two cities can do a lot of things well together, as we have so much in common and so much to learn from each other."
Barcelona and Shenzhen have a twin-city relationship.