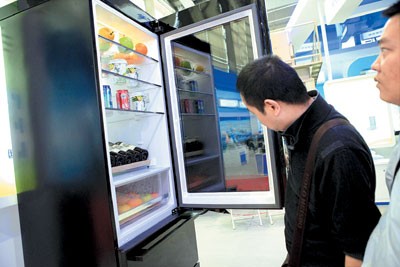 Martin Li
martin.mouse@163.com
AN intelligent refrigerator with a transparent front is proving to be one of the coolest attractions for visitors to Hall 6 of Shenzhen Convention and Exhibition Center during the China Hi-Tech Fair, which ends today.
The door of the fridge is a transparent touchscreen that allows people to clearly see what's inside, modify conditions and more. The screen can display the updated shelf lives and expiration dates of any items that have been recorded in the fridge in advance.
People also can use the touchscreen to set different temperatures in different sections of the fridge.
"Traditionally, we have to open a fridge to check the food inside, during which cool air will leak — it's not environmentally friendly," said a man surnamed Wang who was running the booth for Qingdao-based Haier Group, one of China's leading home appliance manufacturers. "However, the transparent screen door can avoid energy waste."
People also can download recipes and input them into the fridge's database, enabling the fridge to then describe how to cook the food inside.
"When you touch a wine icon on the screen, it will tell you how to make a cocktail with the oranges and Sprite in your fridge," Wang said.
Before the Shenzhen fair, Haier displayed the innovative product at the Consumer Electronics Unlimited in Berlin, Germany, where it also attracted a lot of attention.
The fridge will reportedly hit markets next year.