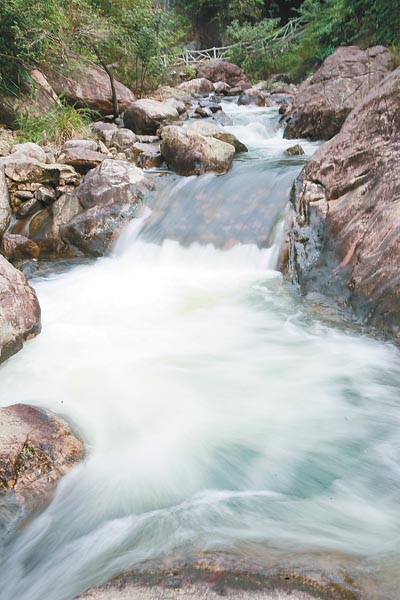 Anne Zhang
    zhangy49@gmail.com
    IF you are tired of your busy urban life and want to enjoy a relaxing weekend without traveling too far, Baishuizhai Scenic Spot would be a good choice.
    Located in Paitan Township, Zengcheng City, Baishuizhai is about 200 kilometers from Shenzhen and takes three hours to reach by bus.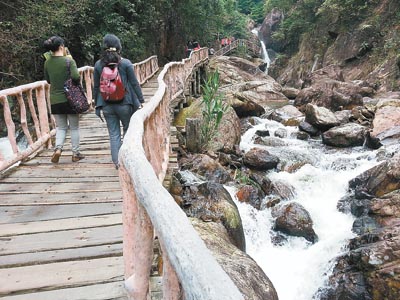 Baishuizhai is a provincial tourism resort. Covering an area of nearly 200 square kilometers, the mountainous scenic zone is known as the emerald of the Tropic of Cancer. It boasts unique waterfalls, weathering landforms and topography and an enchanting ecological system that consist of thick forests, hot springs, mountains and lakes.
    Fairy waterfalls
    A magnificent waterfall plunges from the 828-meter-high Baishuizhai Mountain. The head drop is up to 428.5 meters, the largest one on the Chinese mainland.
    From a distance, the waterfall looks like a silky white rainbow flying down from the top of the mountain. Up close, it looks like a dignified old lady. According to legend, the waterfall is the incarnation of He Xiangu, the only female immortal of the Eight Immortals in ancient China. The waterfall, therefore, is called "Baishui Fairy Waterfalls."
    As you climb the mountain, you will see the waterfall divide into streams. Some streams pour down wildly whereas some drop gently like a curtain, creating a unique cluster of waterfalls with a majestic and changeable appearance.
    Great stepladder
    If you love climbing mountains, you can take some of the 9,999 stone steps in Baishuizhai Mountain.
    Known as the "Greatest Stepladder in South China," the 9,999 steps include stone steps, mountainous roads and wooden boardwalks.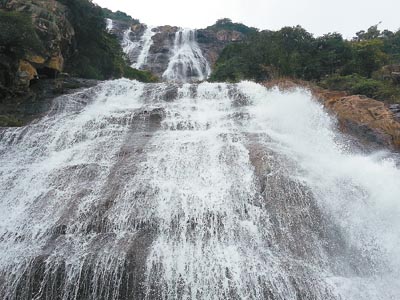 At the 699th step, you can see the waterfall divided into two streams by a huge boulder, flying down like two dragons and merging into a green pond.
    The Pumingtai Platform at the 1,499th step is a great place to listen to the thundering waterfall and enjoy fresh air. The area reportedly has the greatest concentration of anion in Guangdong Province, making Baishuizhai Scenic Spot a natural oxygen bar.
    Rich natural resources
    Baishuizhai Mountain has abundant green bamboos, tall ancient trees and fragrant flowers, where butterflies, bees and birds are all around.
    In spring and summer, there are clouds and mists in the mountains; in autumn and winter, there are various colorful plants, including some rare and protected species, like Fujian cypress, camphor tree and Gymnosphaera podophylla.
    The area is also inhabited by many magnificent animal and bird species, such as yellow deer, wild boar and silver pheasants.
    Relaxing
    The resort is home to the first greenway in Guangzhou. It is a pleasant experience to cycle or walk along the greenway. Along the greenway, you will pass gardens, cross over farmland and be surrounded by a vast blanket of green grass and blooming flowers. You can also handpick fresh strawberries.
    After an outdoor journey, you can enjoy a hot spring in the neighboring Hot Spring Town to relax and recharge yourself and taste local flavors of the Litchi Home.
    Baishuizhai ticket: 60 yuan/person
    Transportation: Take a bus to Conghua at Qiaoshe Bus Station in the west square of Shenzhen Luohu Railway Station. Then transfer at Conghua Transportation Center to Baishuizhai Scenic Spot.