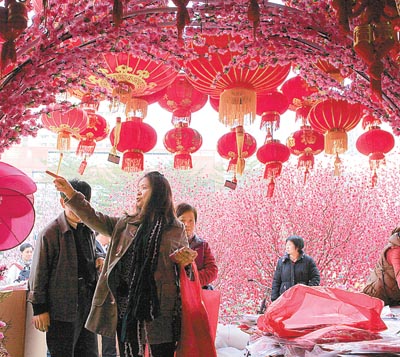 AS the lunar New Year draws near, handicraftsmen and dealers are getting busy meeting the increasing demand for festival goods. Every year, designers, manufacturers, and salespeople compete to promote new creations that are based on traditional designs.
    The popularity of dragon mascots which are based on the Chinese zodiac animal of 2012, the dragon, has already fizzled out. The coming of the Year of Snake has aroused buyers' interest in the new decorations. Known as the dragon of the earth to Chinese, the snake has a mixed reputation. The once symbolic figure of fertility and Chinese civilization — it is believed that Nuwa, the alleged mother of the Han people, has a snake's body but a human head — has transformed into a mysteriously powerful figure in Chinese people's dreams and beliefs.
    Selecting decorations is an important part of preparing for the festival. Besides snake-like decorations, paper-cuttings, couplets, lanterns, Chinese knots and Spring Festival paintings are also popular.
    According to Chinese superstition, cleaning up the house and decorating it with something red, will bring luck and prosperity to a family.
    Decorations and gifts for Spring Festival can be found in the Sungang gift market, Bao'an Road North, Luohu District, the Spring Festival shopping fair at Shenzhen Stadium, Sungang Road West, Futian District, or elsewhere.(Tan Yifan)