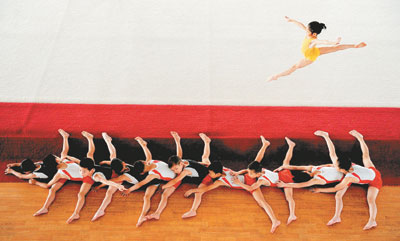 WORLD Press Photo foundation in Amsterdam announced the winners of World Press Photo (WPP) on Friday. Swedish photojournalist Paul Hansen was awarded the highest honor — photo of the year, 2012 for a picture of dead Gaza children.
    Fifty-four photographers from 32 countries, including four photographers from China, won prizes in nine categories: photo of the year, spot news, general news, sports action, sports features, contemporary issues, daily life, portraits and nature.
    Zhen Xiaoqun, of Wenzhou Daily, won second prize in the nature stories category; Chu Yongzhi, of Zhejiang Daily, won second prize in the sports action singles category; Fu Yongjun, of the City Express, won third prize in the stage portraits stories category; and Wei Zheng, of Chinese Sports Daily, won third prize in the sports action singles category.
    The winning photos will be exhibited in 100 cities in 45 countries, starting from April 26.
    Founded in 1955, WPP is an independent, nonprofit organization based in Amsterdam, Netherlands. It is known for holding the world's largest and most prestigious annual press photography contest. The awards ceremony will be held in the Oude Kerk in Amsterdam Apr. 20.(Tan Yifan)
    1. Sports Action, 3rd prize singles, Wei Zheng, China: Synchronized Swimmer at 2012 Olympic Games
    Aug. 10, 2012, London, United Kingdom
    A swimmer soars above the water in the synchronized swimming competition at the London Olympics.
    2. Staged Portraits, 3rd prize stories, Fu Yongjun, China: Miss My Parents So Much
    In Zhangmu, a village near Chongqing, nearly every parent works far from home and 21 children are left behind.
    3. Nature, 2nd prize stories, Zheng Xiaoqun, China: The Gate
    Wenzhou Zoo, China
    Ring-tailed Lemurs caged in zoo.
    4. Photo of the Year 2012, Paul Hansen, Sweden: Palestinian Territories
    Nov. 20, 2012, Gaza City
    Two-year-old Suhaib Hijazi and her 3-year-old brother Muhammad were killed when their house was destroyed by an Israeli missile strike. Their father, Fouad, was also killed. Fouad's brothers carry his children to the mosque for the burial ceremony as his body is carried behind on a stretcher.
    5. Nature, 1st prize stories, Paul Nicklen, Canada: Emperor Penguins
    Nov. 18, 2012, Ross Sea, Antarctica.
    New research shows that Emperor Penguins are capable of tripling their swimming speed by releasing millions of bubbles from their feathers.
    6. Contemporary Issues, 1st prize single, Micah Albert, the United States:
    Redux Images
    Apr. 3, 2012, Nairobi, Kenya
    Pausing in the rain, a woman working as a trash picker at the 30-acre dump, which literally spills into households of 1 million people living in nearby slums, wishes she had more time to look at the books she comes across.