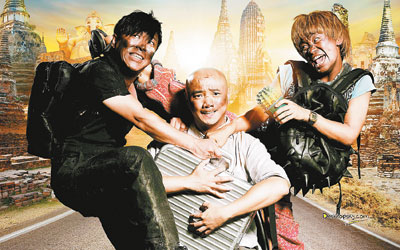 XU ZHENG, director and a cast member of the popular movie "Lost in Thailand," has been accused of infringing copyrights to make the movie that a rival media company says was originally its idea.
    The accusation reportedly was made by Wuhan Huaqi Media, the production company for "Lost on Journey," in which Xu starred. But representatives of Enlight Media, the production company for "Lost in Thailand," said they had never received any legal documents related to the issue from Huaqi.
    Released in 2010, "Lost on Journey" gained high viewership and a strong reputation. "Lost in Thailand" was seen as a sequel for the movie by the public.
    Huaqi said the company had the idea to shoot a sequel after "Lost on Journey" gained success.
    "The playwriting team wrote the sequel and sent it to Xu for opinions, but Xu took the guidelines and went to cooperate with a Beijing Qitiandadi media company on a movie project called 'Lost in City,'" Huaqi said.
    When Huaqi applied to register the sequel with the film authority, the company was told that Qitiandadi had already applied for "Lost in City" and the play had been written by Xu and Yang Qing. The authority asked Huaqi to investigate the case because the two films had exactly the same content and character names.
    However, Qitiandadi withdrew its application Dec. 9, 2010, saying it would give up rights to film "Lost in City" or any similar movies. Therefore, Huaqi gained the license to shoot the sequel for "Lost on Journey" on May 18, 2011.
    Since the release of "Lost in Thailand" on Dec. 20, 2012, the movie has gained huge commercial success. Enlight Media has said it would keep shooting sequels for the popular film.
    "What Enlight Media plans to do has negatively influenced the market for 'Lost on Journey.' We decided to shoot several sequels for 'Lost on Journey' and (Enlight's) sequels would affect our productions," Zhang Tianshu, general manager of Huaqi, said.
    Although many netizens thought Huaqi just wants to draw national attention and make money from the success of "Lost in Thailand," Huaqi has said they just want people to know the truth.
    In response to Huaqi's accusation, Enlight Media said its productions were done under protection of the country's laws and it would sue those who tried to harm their reputation.
    Many film industry professionals have said the case could help develop the country's media industry.
    "Although China's film market is growing fast, there are many problems related to capital operation and copyright. This case is an example. Bringing these disputes to the court and to the public for discussion will help regulate the market," said a film producer surnamed Zhang.
    Shu Huan, writer of "Lost in Thailand," said this was not a case of infringement, even if the two plays had similar ideas.
    "A play's ideas and script are two different concepts. The same ideas can result in many completely different movies. The idea of 'Lost in Thailand' is a common one, which many people could think of, so what really matters is the script and shooting of a film," Shu said.
    Shu said their original film had some similarities with other films.
    "We thought about copyright disputes, so we decided to tell the whole story in Thailand, instead of China. In this way, it would not be similar to any other films," he said.
    Another writer held the same opinion. "For example, Huo Qijian shot a film called 'Xiao Hong' and Ann Hui is shooting a film called 'Golden Time.' The two movies are about Xiao Hong's life, but you can not say that one had infringed the other one's right," the unidentified writer said. "The plays had the same ideas, but they have completely different ways to tell the stories."
    (Wang Yuanyuan)