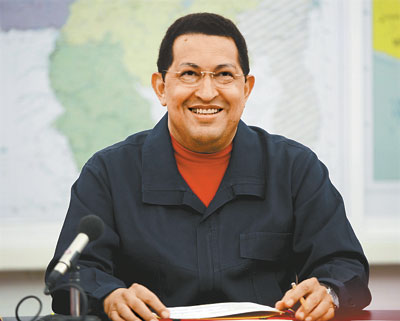 VENEZUELAN President Hugo Chavez, the charismatic leftist who dominated his country with sweeping political change and flamboyant speeches, died Tuesday at age 58, after a long battle with cancer that was shrouded in mystery and prevented him from being inaugurated for a fourth term.
    The "Chavistas" praised "El Comandante" Chavez for reducing extreme poverty and expanding access to health care and education. Critics blamed him for high inflation, food shortages, escalating crime and mismanagement of the country's oil industry.
    Human rights groups lambasted him for politicizing the judicial branch and undermining the democratic system of checks and balances.
    To many he was a charming populist who sang and danced on his weekly television show and gave the impoverished a voice; others saw him as an autocrat who plastered his portrait all over the country and failed to deliver on the promises of what he called the "Bolivarian revolution."
    The last two years of his presidency were overshadowed by his health struggles. After declaring himself free of an unspecified cancer, he fended off a tough challenge to win re-election in 2012 — even giving an epic nine-hour speech during the campaign.
    He soon relapsed and was rushed to Cuba for surgery. He was deemed too sick to be sworn into office in early January, and was still gravely ill when he made a surprise return to Venezuela in mid-February, heralded on a Twitter account with 4 million followers.
    As president, Chavez created a new constitution and had the name of the country changed to the Bolivarian Republic of Venezuela. He took greater control of the state-run oil company, expanded the country's armed forces, and instituted government programs to create jobs, housing and services for the poor.
    A 2009 report by the think tank Center for Economic and Policy Research based in Washington, D.C., found poverty was cut in half during the first decade of Chavez's rule; child mortality fell by a third; malnutrition deaths were down by 50 percent; and college enrollment almost doubled.
    At the same time, one nongovernment report estimated Venezuela's murder rate quadrupled while Chavez was in power. In 2012, inflation hit 18 percent. Accusations of corruption and nepotism dogged his administration.
    Problems aside, he enjoyed tremendous loyalty from his supporters. A 2002 coup during an economic crisis kept him out of power for just two days — and he claimed the United States had orchestrated it.
    Chavez's relations with the United States — referred to derisively as the "empire" in his epic speeches — were icy. He called U.S. President George W. Bush "the devil" and "the king of vacations." In 2010, he demanded Secretary of State Hillary Clinton resign "along with those other delinquents working in the State Department."
    Days before the election in October 2012, he spoke to a rally of supporters in Caracas, displaying the trademark swagger that had made him one of Latin America's most captivating, if polarizing, leaders.
    "Since I haven't failed you in these 14 years, I promise I won't fail you in the next presidential term," he said, according to the Associated Press. "Because Chavez doesn't lie. Because Chavez doesn't sell out. Because Chavez is the people. Because Chavez is truth. Because all of you are Chavez. We all are."
    Born the second of six sons of teachers on the cattle-ranching plains of Barinas state and raised by his grandmother Rosa Ines in a mud-floor shack, the young Chavez first aspired to be a painter or pitcher in the U.S. Major Leagues.
    Attracted by the chance to play baseball, he joined the army at 16 and was eventually promoted to lieutenant-colonel.
    Though mixing with left-wing rebels and plotting within the military from long before, Chavez burst onto the national stage when he led a 1992 coup attempt against then-leader Carlos Andres Perez.
    The coup failed and Chavez surrendered, but he cut a dashing figure dressed in green fatigues and a red beret for a famous speech live on TV before being carted off to jail.
    His comment that the coup had failed "por ahora" ["for now"] electrified many Venezuelans, especially the poor, who admired Chavez for standing up to a government they felt was increasingly corrupt and cold to their needs.
    The hint of more to come, plus the unashamed acceptance of responsibility by Chavez, made him a hero in some sectors.
    Pardoned in 1994 by Venezuela's next president, Rafael Caldera, Chavez left jail and began a grass-roots political campaign, eventually defeating a former Miss Universe to win a presidential election four years later.
    By doing so, the former paratrooper ended the grip of Venezuela's traditional parties and launched his self-proclaimed "Bolivarian Revolution" — named for Venezuela's 19th-century independence hero Simon Bolivar.
    Chavez appeared in front of huge paintings of Bolivar, sending a subliminal message to Venezuelans that he was the modern reincarnation of their historic idol.(SD-Agencies)
Chavez death leaves leadership void in Latin America
    THE death of Hugo Chavez leaves a void in Latin America's leftist leadership and raises questions about the future of the "petro-diplomacy" which helped put Venezuela on the geopolitical map.
    Venezuelan oil money allowed Chavez to respectfully inherit retired Cuban revolutionary leader Fidel Castro's role as the de facto head of an anti-U.S. alliance of left-leaning governments in the region.
    Even governments that did not share his taste for populist anti-Western rhetoric and redistributive economics acknowledged his leadership role, and his passing has left analysts scrambling to update the regional political map.
    "Chavez will leave a vacuum in the heart, in the history and in the struggles of Latin America," said Brazilian President Dilma Rousseff, shortly after his death at the hands of cancer Tuesday.
    Some regional leaders raced immediately to Caracas to pay their respects, and Bolivia's President Evo Morales even walked alongside Chavez's coffin for more than six hours as it trundled through grieving Venezuelan crowds.
    "Nobody can take his place, no one has the resources and his ambition... although this does not mean the demise of the left in the region," said Michael Shifter, president of Washington think tank Inter-American Dialogue.
    "The idea of a vacuum is the most appropriate. There is no one in Venezuela or in other countries, either on the left or the right, with his charisma, his story, his strong eloquence and international presence."
    Over the past decade, Chavez has pushed regional integration that excludes the United States, helping create the Union of South American Nations and the Community of Latin American and Caribbean States.
    He also founded the ALBA alliance of nine leftist Latin American nations that have received oil and financial support from Caracas.
    With Brasilia's backing, Chavez also managed to secure his country's admission to the South American trade bloc Mercosur last year.
    There are some question marks as to whether Caracas will continue PetroCaribe, the accord under which it supplies oil to Caribbean neighbors at cut-rate prices.
    Observers wondered whether, faced with rising inflation, faltering industrial production and a shortage of oil infrastructure investment, Venezuelans want to continue selling cheap oil to allies.
    (SD-Agencies)