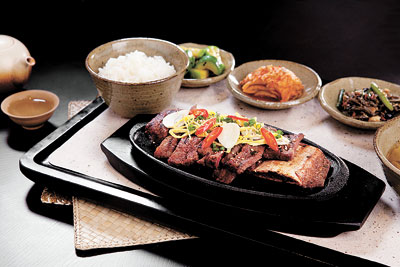 GRAND Hyatt Shenzhen is offering a buffet featuring authentic Korean cuisine.
    Three Korean guest chefs from Grand Hyatt Seoul will prepare their specialities and one of the chefs, Yeol-in Oh, has 25 years of experience and has won several South Korean and international gold awards for his spectacular cooking.
    The buffet includes the most popular Korean dishes such as bibimbab, kalbi, pumpkin porridge and soybean paste soup, all of which are made from the freshest and high-quality ingredients.
    In addition, The Show Kitchen will continue to serve its signature buffet specialties such as fresh seafood, sushi, Chinese dishes and a wide variety of desserts.
    Dates: April 12-25
    Time: 11:30 a.m.-2:30 p.m.; 5:30 p.m.-10 p.m.
    Tel: 2218-7338
    Add: 1881 Bao'an Road South, Luohu District
    (Wang Yuanyuan)