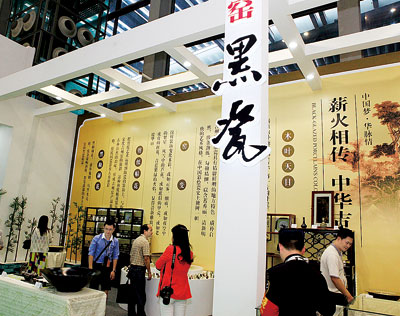 Jiang Mengyun, Wang Yuanyuan
    cheekywang@hotmail.com
    LIU XIAOYU, an artist in black porcelain and the latest member of a family that studies black porcelain techniques, hopes to help more people learn about black porcelain art and sought more cooperations in the field at this year's ICIF.
    "Black porcelain art is a Chinese intangible cultural heritage and has very high value in art collection. I want more people to get to know about it through the fair," Liu said.
    Black porcelain is a traditional art form that originated during the Han Dynasty (202 B.C.-A.D. 220) in Jizhou, Jiangxi Province. The porcelain is pure black with natural spots, and gains textures due to its high iron content and lengthy firings in kilns.
    Unlike many other types of porcelain in China, black porcelain can change its colors and textures when kilns reach 1,200 degrees Celsius. Common colors after firing include blue, green and even tiger prints. The gorgeous colors and textures boost black porcelain's artistic value. A small item, such as a vase and tea set, can cost about 200 yuan (US$32).
    Tea sets, vases, and various decorative ornaments were displayed at Liu's booth over the weekend at the ICIF.
    "The technique of black porcelain was saved by my father. In the 1980s, several major kilns restarted their operations, but black porcelain was not included. My father, Liu Pingshan, who was a researcher at the Jiangxi Province Museum, decided not to give up on it. He checked a lot of files and brought the ancient art into the spotlight again," Liu said.
    Liu Pingshan said the art form has deep roots in China. "It is said that black porcelain could protect families from evils," he said.
    This year marked his second time participating in the ICIF.