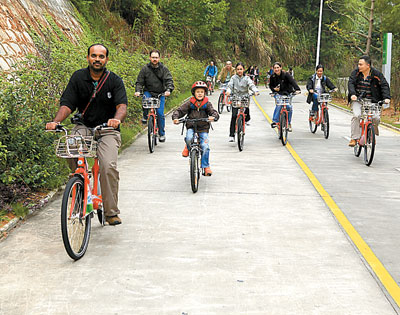 Martin Li
    martin.mouse@163.com
    SPENDING spare time on local hiking and cycling tracks, also known as green tracks, is an increasing trend among Shenzhen residents.
    "Cycling on green tracks brings us closer to nature. We are living in a concrete forest and green tracks wake us up," Bao'an District resident Zhang Yuanbing said in a recent local article. Zhang said green tracks make his family happier.
    Futian District resident Sun Lin also is a fan of green tracks, and said she often goes cycling on the green track in Meilin with her husband on weekends.
    Sun said green tracks are flanked by either trees or rivers, keeping people away from noisy cars. "Many of my friends have joined my weekend green track cycling tour," Sun said.
    Shenzhen has been seeing fast construction of green tracks. There were 347 kilometers of green tracks on a Guangdong Province network as of the end of last year, according to government statistics. Local green tracks often are connected with tracks in other cities in Guangdong.
    In addition, the city had completed 772 kilometers of urban green tracks and 1,091 kilometers of community green tracks by the end of 2012, achieving a goal of one kilometer of green track for every square kilometer of local land, on average.
    Yantian District, for example, is home to a 19.5-kilometer coastal green track that starts at Zhongying Street and ends at Xiaomeisha Park. In addition to costal scenery, the district has installed public bicycle rental stations on the track to help people enjoy the sights and exercise.