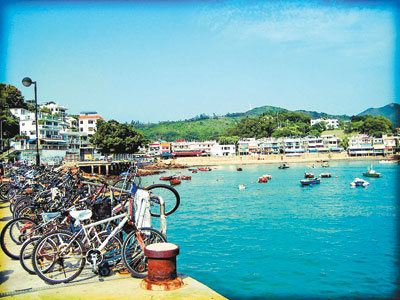 Wang Yuanyuan
    cheekywang@hotmail.com
    A SEASIDE weekend is always an ideal choice during the hot summer, but heading to beaches in eastern Shenzhen might mean dealing with traffic jams and big crowds. A short trip to Hong Kong can offer a quiet seaside weekend on small islands with fewer people and rich culture.
    Lamma Island
    With a traditional Chinese fishing village and a laid-back multicultural community, Lamma's blend of Western and Chinese island life creates an atmosphere that has proved irresistible for busy people from regional urban centers.
    Although its fishing industry is no longer as prominent as it once was, many traditions still remain. Lamma Fisherfolk's Village gives people a chance to experience what life might have been like on the island in the old times. Visitors are invited to try their hands at angling, catching large fish, hauling on fishing nets and weaving ropes.
    Hung Shing Yeh Beach is famous for its clean water and powdery sand and has long been the most popular beach for expatriates in Hong Kong. It's also a top spot for gatherings such as beach parties and barbecues in the evening.
    There are many small inns on the island, most of which are operated by local villagers.
    How to get there: Go to Hong Kong Central from Shenzhen by Metro or ferry and take a ferry to Lamma Island at Central Ferry Piers.
    Tai O
    Tai O fishing village on the western coast of Lantau Island is a quaint and picturesque community, and one of the few places in Hong Kong where stilt houses that are traditional in old southern Chinese fishing villages can still be seen.
    With its scenic coastal setting framed by mountains, bustling activity surrounding the harbor, traditional seafood market and daily life in the stilt houses, Tai O is a photographer's dream and definitely worth the trip.
    A boat ride is a must when visiting Tai O.
    Local artists have opened a few small inns in Tai O, with stylish decorations. Several villages near Tai O also offer plenty of things to do, with smaller crowds than might be found elsewhere.
    The famous Big Buddha and Po Lin Monastery also are close to the village.
    How to get there: Go to Tung Chung from Shenzhen by Metro or bus and take a bus to Tai O. There is a direct coach to Tung Chung at Huanggang Checkpoint in Futian District.